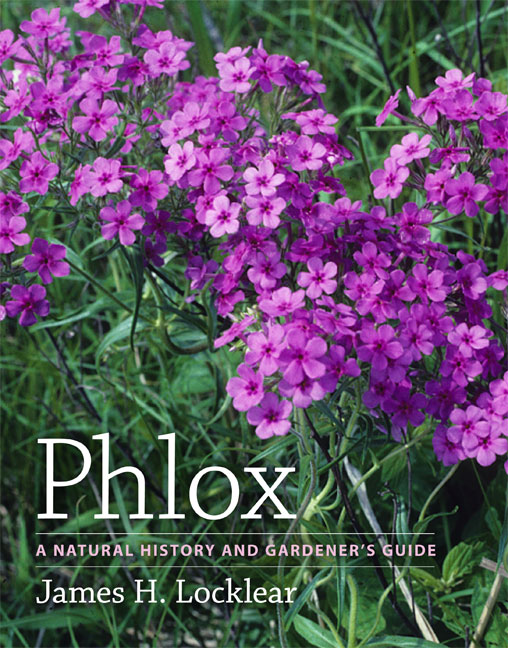 Okay: I lied.One sneaks over to Siberia. It could be argued that the genus Phlox is more commonly grown in gardens than almost any other group of native ornamentals. Spring is the season of creeping phloxes, and they are followed in June, July and August with throngs of giant phlox that are so fragrant on warm summer evenings.
America is carpeted with various phloxes, especially the  American West where they can be very confusing. Fortunately, a magnificently illustrated new book on the genus was published this past year by Timber Press, written by James Locklear, one of the West's leading field botanist. Locklear is currently head of the Education program at Laurintzen Gardens, the botanical garden of Omaha, Nebraska.
Jim has spent nearly two decades traveling across America photographing phloxes, studying their morphology and looking up specimens in herbaria. He has condensed this vast research into a very attractive volume. The lovely pictures are equalled by his charming writing style and the fascinating stories he has woven around every species of phlox.
Phlox multiflora var. depressa on Gore Pass (pink phase)
Phlox multiflora is one of my favorite Colorado phloxes due to the great variability in flower color. The picture above and below were taken this past June in Routt County on Gore Pass, but you could walk over miles of this phlox in North or Middle Park as well, and throughout much of western Colorado. The fragrance is amazingly tropical, sweet and rich. Western phloxes are notoriously difficult to grow. We find that they grow surprisingly well in xeriscapes from seed or rooted cuttings.
Phlox multiflora var. depressa on Gore Pass, Colorado
This tiny phlox below is Phlox albomarginata from Montana. I have yearned to obtain this, and finally got small rooted plants from beaver Creek Nursery in British Columbia. This too has a heady fragrance. I am fascinated by the thin white edge along the leaf. What's that all about?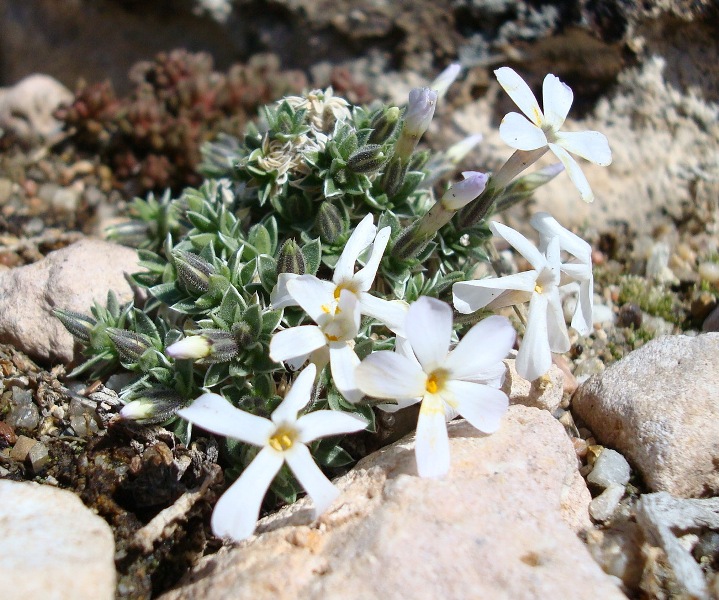 Imagine this past year how excited I was to see this tiny plant had more than quadrupled in size. It may take many years to finally track this treasure down in nature to photograph it there. When I do, I shall have Jim Locklear's alongside , to put the whole genus into perspective.
Phlox albomarginata in a trough at my house a year later
Trot on down to our Shop at the Gardens gift shop in the coming weeks and see the many book treasures have been obtained. What better thing is there to do on a cold winter weekend but read Jim's great account of phloxes and plan your garden next year to accommodate many more of them!?