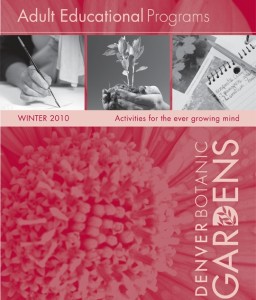 Want to be known as the "thoughtful and clever gift-giver" this holiday season?  Like the idea of giving your loved one a gift that curls their toes and makes them appreciate you just a smidgen more?  Let the Gardens help facilitate the crowning of this new holiday title for you.
Here's the answer... sign up a loved one (or two) for a class at the Gardens for next year. The Gardens offers a plethora of classes where you're sure to find something for everyone.  We've even made it easy and provided some ideas for you below based upon different interests.  There are many more choices available on our website.
Truly the best part of this whole plan is how easy it is to make you look good.  All you have to do is visit our website, pick the class and sign your loved one up.  You could even go one step further in the "thoughtful" category and think about signing up two of your loved ones to take a class together – creating a special and memorable outing for the two of them.
And so that there's something to unwrap, give us a call (720/865-3580) and we'll mail you a special certificate* for them AND/OR you could get super creative and wrap an item that has something to do with the class (a spatula for a cooking class, a pack of seeds for the gardener…you get the idea).
Urban Gardener
•    Tickets to "A Garden in Every Neighborhood" – a documentary on urban gardening (on Jan 27th)…and, ahem, it's only $10).
•    Salad on the Sill
Food Lover
•    Warming Winter Soups and Chowders
•   Planting the Spring Kitchen Garden
Gardener – Expert or Novice
•    Vines and Groundcovers
•    Rocky Mountain Horticulture I: Gardening Principles
Zen Friends
•    Taoist Meditation Workshop
Yogi or Yogini
•    Weekly or single Kundalini Yoga classes
Do-It-Yourselfer
•    Cold Process Soap Making
•    All Natural Skin Care
Natur-ista
•    A class in our Herbcraft Series such as Holistic Detox for Body & Spirit, Herbal Incense Bar and Healing Amulets
Gift Pairs
Mother-Daughter
•    Mexican Fiesta, Cooking Class & Dinner (a guaranteed good time for the two of them with a fun night of cooking together)
•   "Planning a Rose Garden" (how beautiful is the thought that the two of them can create a special place together that will remain there for years and be able to remind them of their time together?)
Mother-in-Law and Wife (hey, it could happen)
•    Spirited Woman New Year's Rejuventation Spa (have them feel the love with a day spent nourishing their body, mind and spirit).
•    The New Undaunted Garden with Lauren Springer Ogden (if they are both gardeners, you will quite frankly impress them that you thought to get them tickets to hear an acclaimed garden designer and author speak about her new book and sustainable gardening practices).
Father-Son
•    Sustainable Greenhouse Design (what a great project for the two of them – creating a greenhouse that needs NO supplemental heating year round!)
•    Landscape Design Theory (they can both learn how to make new or existing landscapes more aesthetically pleasing and functional; and guess who could be the real winner there?  You and your yard!)
Too many choices?  Not sure of the perfect class for them?  Get them a Gardens annual membership and they will get significant discounts on any classes that they sign up for later.
Remember, though, that with this new title of "thoughtful and clever gift-giver" comes new responsibilities and certain gift-giving expectations for years to come.  It's a good thing that the Gardens will be around for all your future holidays and special occasions.
Happy Holidays!
*In order to receive your certificate, you must give us a call to let us know you would like one. To receive your certificate on time via mail, you will need to register and call us at 720/865.3580 prior to December 14th at 5:00 p.m.  If it's after the 16th, we can have a certificate ready for you to pick up at the Gardens on York Street.