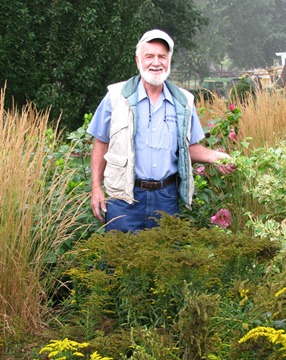 It is with great sadness that I report the passing of Harlan Hamernik, plantsman, businessman and friend of Denver Botanic Gardens--and gardeners everywhere. Harlan passed away last night in Lincoln where he was flown after an explosion at his home in Clarkson, Nebraska.  Harlan has served as Mayor of Clarkson, and founded Bluebird Nursery which is located in the same town. Bluebird is one of America's premier wholesale nurseries. In recent years he went on to start HH Wild Plums, which specialized in woody plants.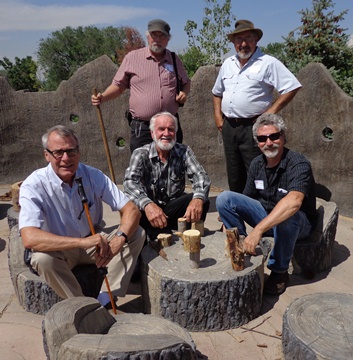 Here you see Harlan a few months ago, on his last visit to Denver with some of his close associates from around the country. Harlan helped found the Perennial Plant Association, the Great Plants program of Nebraska,  and was one of the co-chairs of the only combined meetings of both Eastern and Western chapters of the International Plant Propagators Society meeting in Denver in 2009. Harlan traveled extensively throughout America, Europe, and especially China in search of new plants for cultivation. Many of these were distributed through Plant Select (Bluebird is one of the eight original nurseries launching the program). He had a deep commitment to public gardens, and donated great quantities of plants--especially to gardens in the Great Plains and Midwest regions.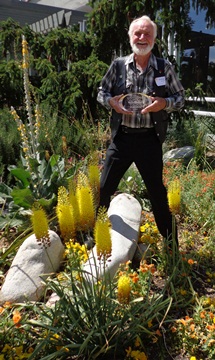 Here Harlan is showing off his Plant Select individual partner award on June 6 of this year. Harlan visited Denver Botanic Gardens almost every year (and sometimes several times a year): he brought a large truck filled with unique plants from his collections in Asia which he donated when Plantasia was planted. He hosted many DBG staff at Bluebird in the "bunkhouse" and went on plant explorations with several of our staff.
I could spend pages detailing Harlan's contributions and achievements. What is harder to convey is his omnipresent smile and appreciative chuckle, his rich baritone of a voice and the delightful Nebraska Czech Hills twang in his accent as walked alongside you. He blended gentleness and strength in a special way. He possessed a fiery passion for plants and enormous desire to observe them in all phases of their growth. He had a magician's knack of finding special forms, of taking a pinch of a plant and transforming it into millions that then found their niche in gardens across the globe. (Bluebird has been one of the largest suppliers of Denver Botanic Gardens' Annual Plant Sale).
Harlan was good friends with Claude Barr, and carried on Claude's work on a scale that would have astounded Claude. Harlan's heart was as wide as the Great Plains, and his legacy will last as long as the wind whistles through the little bluestem.
Our sympathy to Shirley, his children and grandchildren--to the entire town of Clarkson--and his many friends across the country and the world.
Cindy Tejral Newlander, Associate Director of Horticulture adds the following data relating to Bluebird Nursery accessions (each accession being a species or cultivar) at DBG:
We (Denver Botanic Gardens) have 1102 recorded accessions from Bluebird Nursery. Over 600 remain living within our collections.
Some of the specific plants we've had/have in our collections that are Bluebird or Harlan Hamernik introductions/hybrids include:
Callirhoe alcaeoides 'Logan Calhoun'
Calylophus serrulatus 'Prairie Lode'
Origanum 'Amethyst Falls'
Monarda 'Prairie Gypsy'
Erysimum capitatum var. purshii 'Mountain Magic'
Hibiscus moscheutos 'Pink Clouds'
Clematis integrifolia Mongolian Bells
The Mongolian Bells and Prairie Lode are both Plant Select choices.