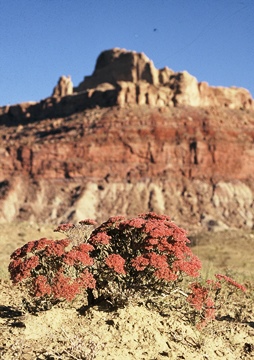 Eriogonum corymbosum 'San Rafael'
Anyone who drives through the Colorado Plateau this time of year is apt to be struck by the ubiquitous and astonishing mounds of mounding buckwheat everywhere you look. Millions have passed by this buckwheat--but few stop, and fewer indeed have grown this plant. 25 years ago this month I took this picture of an especially lovely russet form of the species that rather closely matched the tint of the nearby turrets of the San Rafael River country...behold the amazing clay it's growing in. Would there be any hope in cultivating a waif from such austere surroundings?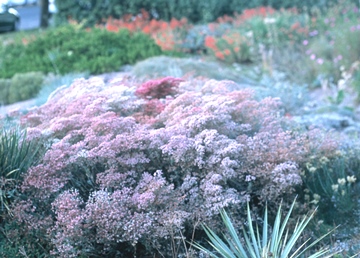 same, in my old garden
Here you can see what seedlings from the plant above have done for decades at my old home garden--it's even more fetching in cultivation!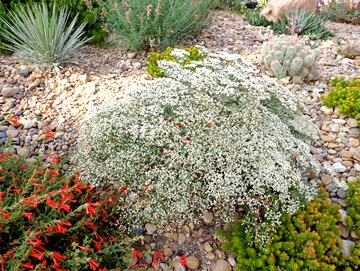 Eriogonum corymbosum white form
Here is a pure white form making a wonderful dome of lacy white at the gardens at Kendrick Lake (that treasure trove of xeric gems grown to perfection!).
And here is the white form in the middle of winter photographed at the extension office xeric demonstration garden at Orchard Mesa, south of Grand Junction. It's almost more striking in seed than in bloom! This is the form selected and propagated by Chelsea nursery, one of Colorado's retail sources of native plants, located in Clifton just East of Grand Junction.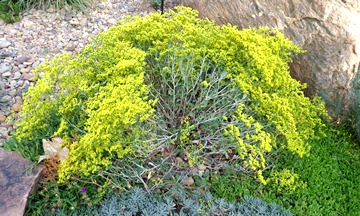 Eriogonum corymbosum 'Henrieville yellow'
This is a picture of a newly cultivated form of this terrific plant, which is in full bloom right now at Kendrick Lake. The soft yellow color is luminescent in full sun or in crepuscular light. I cannot say how envious I am of this plant (my three seedllings didn't overwinter very well...). It makes a spectacle in the xeriscape for months in late summer and fall, and thrives on neglect and drought: what better recommendation can I give it? It is available from Sunscapes Nursery and has been offered in the past by High Country Gardens...and perhaps some day I will have it in my own garden?