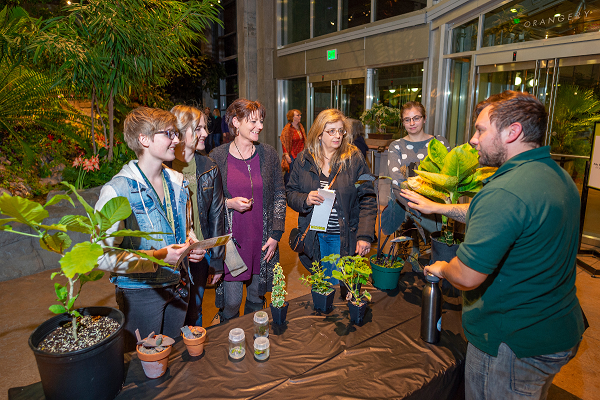 For our final Off the Clock event of the season, we are celebrating misdirection and the mysterious. Plants and people are masters of illusion, and our own minds play tricks on us constantly. Fortunately, the results are often entertaining! Join us for an evening of entertainment where nearly everything is not as it seems.
To The Moon and Back Without Leaving the Ground
Hosted by Kaboom VR, our virtual reality arcade will offer guests the chance to choose from one of our virtual experiences that take them out of this world! Visit outer space, ride epic roller coasters or play mini golf in the clouds to take your mind off a busy week. Or, play a round of Beat Saber if you're up for a vivid competition against yourself.
Entertainers to Tickle Your Senses
Tricky Crafts for the Age of the Smartphone
Craft a 3D figure that magically transforms into its true form when viewed through a camera lens.
Explore Wild & Weird Plants Live with Gardens Scientists
Gardens' horticulturists will show off some plants that use deception or mimicry to trick their predators.
Learn about the lives of plants and play a seed dispersion game with our Research & Conservation team.
The Future, The Past and More
Explore the possibilities with a tarot card reader or with a pair of mentalist magicians.
Capture the moment with your friends and family at our complimentary photo booth.
Games to Trick You
Test your trivia savvy at our Jeopardy-style trivia board of common myths & misconceptions.
Can you find our featured plants in a game of I Spy?
Perfectly Regular Food & Beverage That Definitely Won't Trick You – Right?
Check out our two cash bars for beer, wine or cocktails. Both cash and credit will be accepted at each bar.
Offshoots Café will be open offering its full menu, however it will also feature a specials menu of treats that play games with their ingredients. Get yours early, specials may sell out!
So join us for this night of trickery, illusion and entertainment! Tickets are limited, so purchase yours today online or at the Bonfils-Stanton Visitor Center. Ticket prices go up at the door.
 
Off the Clock: Believe It or Not
Friday, April 5, 2019
6-9 p.m. (last entry 8:30 p.m.)
Advance Tickets: $21, $18 ​Member
Door Tickets (if available): $27, $24 Member