The most pressing concern of the Gardens' visitors each summer relates to what we do with our aquatic plants during the winter. The horticulture staff is now challenged as construction continues with the dynamic restructuring of our Gardens. Although we must make adjustments in over-wintering plants, the same principles apply.
Hardy waterlilies are hardy to zone 5a (USDA Plant Hardiness Zone Map) and can be over-wintered in Denver by lowering the plants to the deepest part of a pool to avoid having the rhizomes freeze.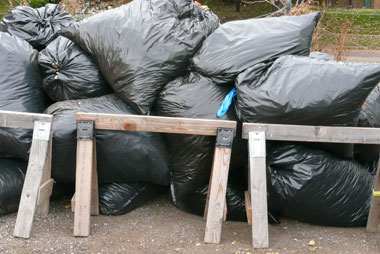 This season, some of the hardy waterlilies will be placed in pools which we do not expect to drain until next April. Others will be covered with bags of fluffy leaves, stacked carefully three high in a secure area in the north parking lot.
Thirdly, our storied Rocky Mountain Legacy (RMLC) waterlilies are kept in galvanized tanks at the west end of the former cutting garden. The tanks are covered with foam and bags of leaves to insure the ice does not penetrate deeply.
Lotuses have proven to be hardy in Denver. They (like the hardy waterlilies) can be lowered to the bottoms of pools. They can also be kept under a mulch of leaves or pine needles.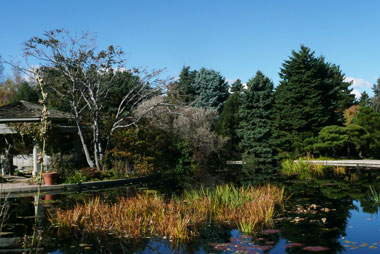 Hardy marginals (sedges, rushes, grasses, sweet flag, water iris, etc.) will survive the winter when given the same protection as the hardy waterlilies and lotuses. The roots/rhizomes cannot freeze,  nor can they dry out.
Inspirational, Historical Colorado Water Garden Society Lends a Helping Hand, Again!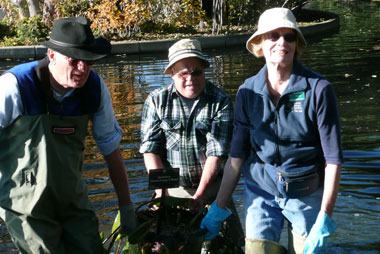 For three Sundays now, the resilient Colorado Water Garden Society (CWGS) volunteers have again impressively pitched in to assist in the dismantling of our massive water garden displays. Their energy, skills, brawn and support continue to impress us. The effort of Sunday, Oct. 18 was extra special. The senior-citizen-laden group of 12 included four stars over 70 years young.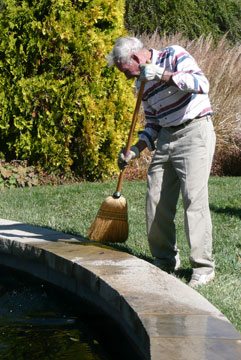 Thank you so much and congratulations again, champion CWGS volunteers!