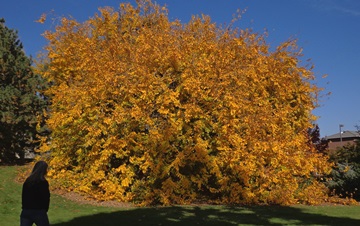 Weeping American elm 
Colorado is given to extremes: remember last spring we were due for drought? Instead we ended up with 100 year floods. This April we experienced the worst late frost in my long life as a gardener--but this fall is turning out to be one of the longest and loveliest ever. So some of my colleagues in horticulture joined me for a quick escape last Thursday to visit the wonderful arboretum at Regis University in Northwest Denver. I had visited many times and know the wonderful grounds manager (Marita Tewes, now horticulture director at Red Butte Arboretum in Salt Lake City) who originally planted many of these trees decades ago. I hadn't been back for several years. Boy! had the trees grown! One of their treasures is this enormous, weeping American elm. When you see this good of fall color on an elm, you know it's been a perfect autumn!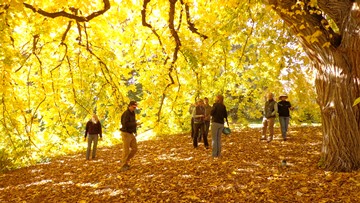 Under the canopy of weeping elm
Here some of the Gardens horticulturists can be seen marveling in the glorious light under the canopy of the elm.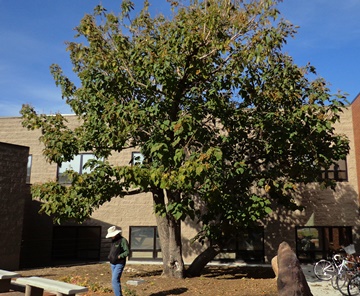 Paulownia tomentosa
The other most spectacular of trees at Regis Arboretum has to be this amazing empress tree, loaded with both fruit and buds. It apparently managed to bloom this spring despite our horrendous frost. I have known about this tree for years, but keep missing its gorgeous purple flowers.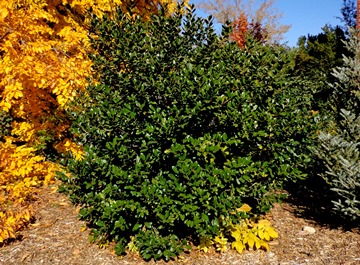 Evergreen holly
Not only are there unusual trees, but here is an incredible evergreen holly I couldn't even recognize (possibly a hybrid of Japanese species). It's incredibly healthy and lush--growing in full sun! Very special indeed.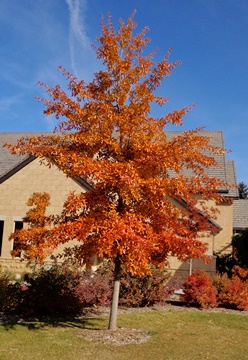 Quercus imbricaria (Shingle oak)
This is one of several wonderful young Shingle oaks found on the campus. I had no idea that this oak was prone to such gorgeous tangerine fall color. I may need one of these for my own little arboretum (also known as my neighborhood!).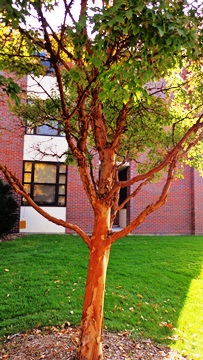 Paperback Maple (Acer griseum)
I was piqued to find several fabulous paperbark maples: why piqued? The ones I planted at Denver Botanic Gardens almost 30 years are SMALLER than these--they're growing gangbusters where they have them. The foliage has yet to turn on these (they have a gorgeous red-orange fall color). I better go back in a week or so to check it out again...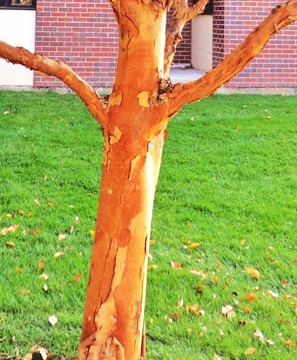 Paperback maple closeup
Anyone who has a close encounter with one of these plants has to possess one themselves. Just this morning one of my colleagues was quizzing me about where he might buy one (he was on that field trip, obviously!). Although originally from north central China, these seem to thrive here in Colorado, growing rather slowly to be sure. But they produce viable seed in our climate, which they do not always do in more maritime climates--another argument for growing exotic plants in different settings. Although known from seven provinces in China, it occurs in areas that have been heavily cut for timber and terraced for agriculture. Its existence in the wild is far from secure.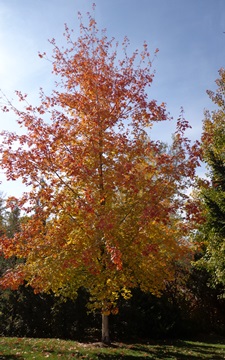 Bigtooth maple (Acer grandidentatum)
There were several outstanding specimens of bigtooth maple on the campus as well--this is one of the typical form of the species, and there was a fabulous cultivar Rocky Mountain Glow TM selected by Schmidt nursery nearby. This is surely one of the spectacular and special plants of the Rockies--and still very sparingly represented in gardens. So seeing these specimens warmed the cockles of my heart...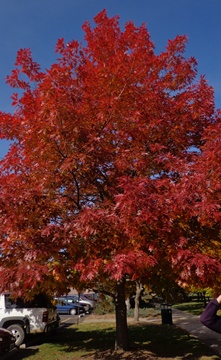 Scarlet oak (Quercus coccinea)
If there was a "truth in advertising" board in horticulture, they'd give a special certificate to this spectacular specimen of scarlet oak that more than lives up to its name (they'd be handing out citations right and left to the horribly exagerated names plants are often given, however). Denver has quite a few northern red oaks, which--alas--are somewhat susceptible to Kermes oak scale and tip dieback (although they seemed to be better this year than most). Although the scale affects many oaks, the scarlet seems somewhat less susceptible. I only know a handful of these around Denver, although a few in the D.U. neighborhood and in Boulder are truly massive. There are not nearly enough oaks in our gardens!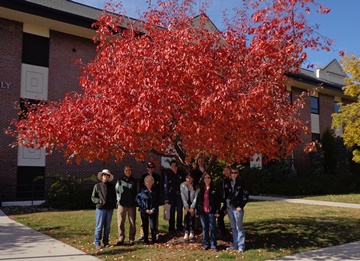 Denver Botanic Gardens horticulturists under an outrageous crabapple...
Here are the trusty band of Gardens horticulturists who accompanied me on this magical stroll through Regis last week. I am fortunate to have an office adjacent to this powerhouse of talent that makes the grounds of Denver Botanic Gardens the most gorgeous piece of real estate in the world (in my humble opinion). It was great fun to watch them absorb the lessons of our sister arboretum, and bask in the glory of the most beautiful autumn I ever recall in Colorado.