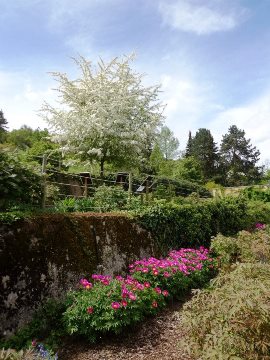 Vignette at Würzburg
Among the top rank of botanic gardens are gardens whose name ends with "burgh" or suchlike: Edinburgh, Gothenburg, Nymphenberg. The botanic garden at the University of Würzburg is the epitome of all I love and admire in the profession I've been so lucky to pursue. My visit there was half agony, but mostly ecstasy...Why do you ask?
Alpine House at Wurzburg
Wurzburg has lots of alpine houses, and they are unbelievable. Give 'em a big gold star for this, friends!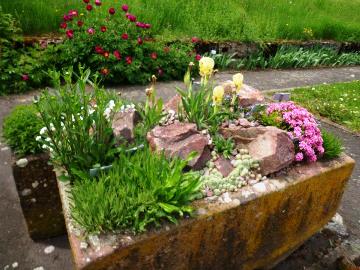 Alpine trough
Würzburg has many magnificent troughs and raised beds. Another gold star for Würzburg.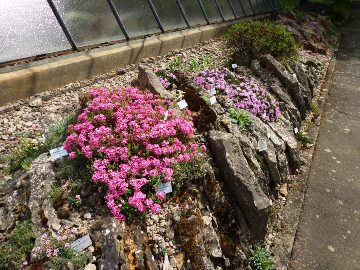 Daphne
A spectacular crevice garden alongside one of the alpine houses, with daphnes galore. We have quite a few crevice gardens that popped up in recent years in the Rock Alpine Garden, and also in the Mordecai Childrens' Garden--and we have lots of daphnes all over the place. Gold stars for both of us!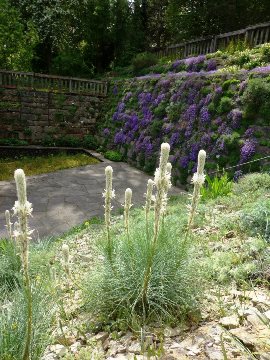 Asphodeline taurica and Aubrieta draped wall
Enough humor: let's get to the gusto! There are two features at the botanic garden at Würzburg that are utterly unique. They constitute a sort of permanent spectacle, the horticultural equivalent of our Blossoms of Light, say, or Concert Series (ie.: something ostentatious and wonderful that everyone enjoys) and both are pictured in this obliquely. The white spikes in the foreground are emerging from one of these--which I shall get to in a bit. But if you gaze beyond the asphodel you will see an enormous wall--like that of Troy or the Acropolis--a fortress of flowers!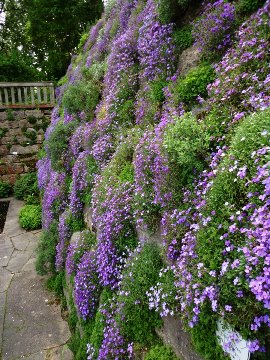 Aubrieta on the wall
Here is a closeup of the "Wonderful wall of Würzburg," draped with rock cress in spring and summer. Wall gardens are wonderful--Bodnant in Wales has a good one. But nothing I have seen can begin to compare with this breathtaking and very long symphony of rock and plant. It winds and twists, and large areas are filled with rare treasures.  It is one of the most imaginitive and beautiful features I have ever seen, and it took my breath away! Würzburg gets more gold stars.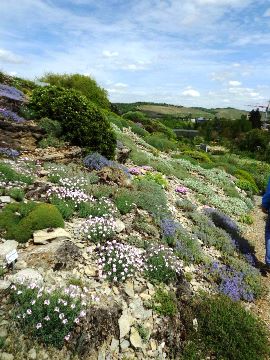 The steppe
Here is the kicker: how does one capture a garden acres in extent, perched on a hilltop that gazes over the vast expanse of Franconia? No one prepared me for the "Mediterranean" garden at Würzburg. It does have plants from countries bordering the Mediterranean--but most are really from high mountains there, especially Turkey. These are steppe plants by and large. And the garden is nothing more and mothing less than a spectacular encapsulation of the world's steppes! It has vast vistas, and sweeps of plants growing in vast drifts of thousands, and everything is growing perfectly, not a weed to be seen. It was in wonderful bloom in early May, but I could tell there would be flowers in summer as well, and fall. I could have spent days photographing, studying and just reveling in this simply perfect garden.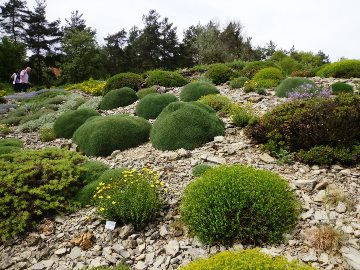 Acantholimon ulicinum
One of innumerable vignettes throughout Würzburg's incomparable steppe: notice the herd of vegetable sheep mid-picture. These are just one of many colonies of Acantholimon, a genus in the Plumbaginaceae which I never dreamed would tolerate the rainfall of central Europe. We have dozens of acantholimons at Denver Botanic Gardens. They love it here. Somehow the staff at Würzburg have figured out the culture so they not only grow them, but grow them to enormous sizes--some of these were a meter across. We get some gold stars, but they get more stars for the cultural achievement of the thousands of steppe gems they grow here to perfection.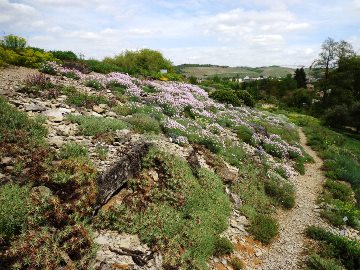 The giant steppe berm
Another view of the steppe berm. This garden is so vast you can only glimpse it in pieces--pictures are hopelessly inadequate. There is so much else at Würzburg I can't begin to even begin to describe. The football field-sized area with prairies, rock gardens showing various aspects of North American flora--desert, alpine.There are woodlands full of trilliums and Asian gems. And greenhouses galore, which I didn't even visit (not enough time, too much steppe to see!). There are areas with vegetables, orchards, and fascinating demonstrations about horticultural history and techniques. But this is a mere blog--not an encyclopedia. Besides which--Würzburg must be seen to be believed. So I must end...one last vignette.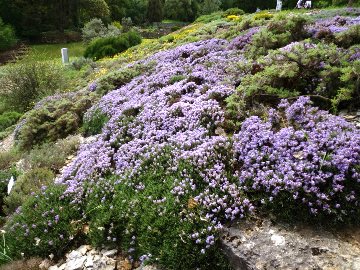 Erinacea pungens
High in the mountains of southern Spain and Morrocco there grows a purple flowered legume resembling a broom that is one of the treasures of dry gardens.  We have struggled to grow this and have a few plants here and there at Denver Botanic Gardens and in a few private gardens in Denver to show for it. At Würzburg, this covers a vast swath of the steppe--and was in full bloom for our visit last spring. I was dazzled.
The great botanic gardens of Central Europe and Scandinavia have much to teach us. Germany alone is half the size of Texas and has over 100 full scale, ambitious research oriented botanic gardens.