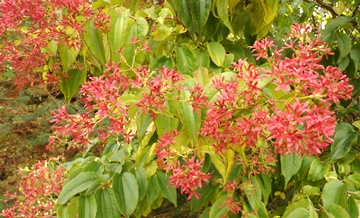 Heptacodium in seed
The last thing one expects to see this time of year is a shrub in glorious full scarlet bloom--and even up close the red seedheads on "Seven Sons Flower" look suspiciously like flowers. Of course, in August it was a different proposition!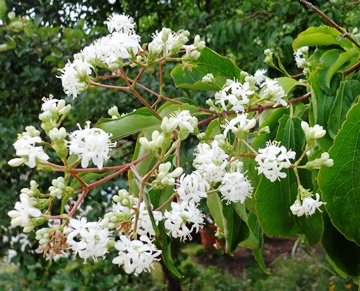 Heptacodium in summer bloom
This is what the same branch looked like two months ago. The crystalline white flowers are incredibly fragrant in the late afternoon--wafting a powerful, tropical aroma reminiscent of gardenia, perhaps, or honeysuckle. Since this unusual plant is in the Honeysuckle family, that's quite appropriate. It was introduced to general horticulture over 30 years ago by the Arnold Arboretum, which had imported seed from Hangzhou Botanical Garden during the 1980 Sino-American Expedition. This has become an instant classic along the East Coast and Midwest--but is proving an outstanding plant in our area as well.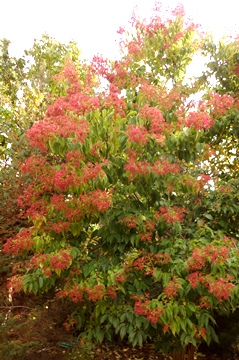 Heptacodium further back
If you can possibly do so, do come down to PlantAsia in the coming weeks: a whole bank of these stately shrubs that are rapidly growing into trees are in full color now: in the late afternoon, when the sun streams through and backlights the lot, the impact is truly stunning. These were ojnly planted 12 years or so ago, and some must be nearly 18' tall. With incredibly beautiful peeling bark, and those dark green leaves with drip tips that you would swear were on a tropical plant. And yet this is zone 4 hardy. I have seen a grove of these at Bluebird Nursery in Clarkson, Nebraska, that have been through -30F many times.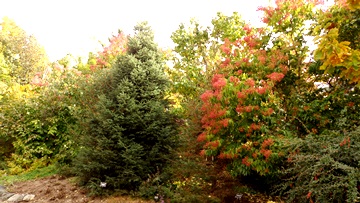 Bank of Heptacodiums
Here you can see the whole south bank of PlantAsia is filled with these. I have seen these in only a half dozen of the most sophisticated local gardens, growing in a number of different conditions and sites. This shrub appears to be very adaptable and fast growing, and yet keeps its compact shape as it towers in the garden. It was introduced locally through Plant Select in 2008. I have seen good looking specimens in most of the better local garden centers and nurseries. I have NOT seen this very many places outside Denver Botanic Gardens. Next year, if you have a spot that needs a dramatic plant with four season beauty--think about planting one of these. If you drop by the Gardens in the next few weeks, I can guarantee you that you'll put it on your wish list!