Mon, Jan. 31 the monumental sculptures of Henry Moore will start to be craned and crated and begin their long journey back to Moore's estate at Perry Green in the countryside of England. The sculptures start getting packed up on Monday, but they'll still be here. Today or tomorrow are the best days to visit - especially given the weather!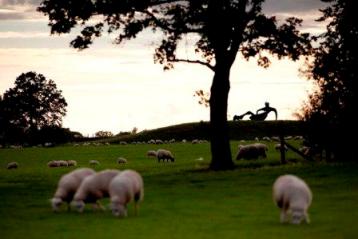 It will take nearly two weeks to prepare the 100,000 lbs. of sculpture for the first leg of the journey from Denver, CO to the east coast at the New Jersey port.
Seven semi-trucks will drive the sculptures to the east coast where they will be loaded onto ocean freighters to travel 3,471 miles of open seas to finally land on the coast of England.
Installing 20 sculptures (18 at York Street and two at Denver Botanic Gardens at Chatfield) took equal amounts of labor. Arriving by semi-truck  from Atlanta, Georgia (where they were previously exhibited in Moore in America at the Atlanta Botanical Gardens), installation began in Feb. 2010 and was concluded right before the March 8 opening.
It took seven different-sized cranes to place the sculptures throughout the Gardens. Placement within the Gardens was limited by how far a crane could reach.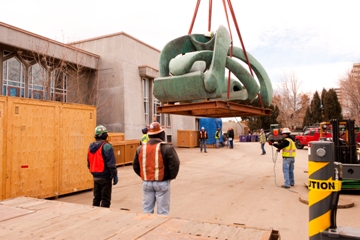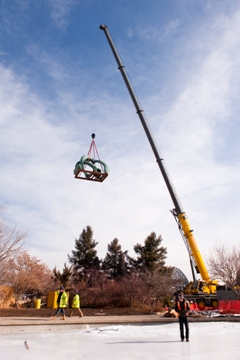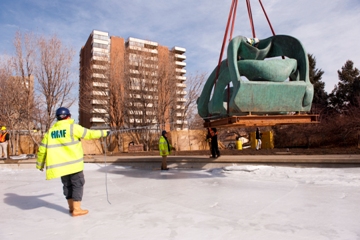 Henry Moore, Hill Arches, 1973 at the north end of the Monet Pond
Moore in the Gardens was the first major exhibition of Henry Moore's monumental works west of the Mississippi.  Don't miss your last opportunity this weekend to see these impressive sculptures at both Gardens' locations.