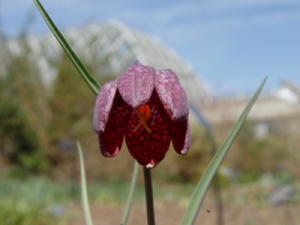 I can't imagine most people who find this page won't have already discovered our home page has a new look. But it does, and so I want to say congratulations to everyone who brought it together!
One of my favorite features is the what's blooming link which features a few, special chosen plants.  As much as I also notice whats in bloom, these listings are really well-crafted and chosen to show you what's happening.  In particular, I can't believe I nearly missed the snake's head fritillary (at the top of the page)!  At one time, this was one of my favorite plants because it came up reliably at at time of year when I had no idea what else would show.  Also, almost no one else knew it and I got to share.
If memory serves me, Fritillaria meleagris is also known as "leper lily," possibly because the "checkered" and mottled appearance of the flowers reminded medieval Europeans of leprosy symptoms or possibly because lepers wore bells about the same size and shape to warn healthy citizens away.