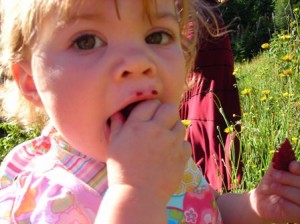 Ever wonder how to dye your clothing in a natural way? Kids love getting stains on their clothes anyway, right? Next Tuesday in our Seedlings weekly classes for kids 3-5, we will be making tie-dyed socks with berries. We will define what fruits are actually considered berries and which ones aren't.  Botanically, a blueberry is considered a false berry and a strawberry is an aggregate berry. So what actually is considered a berry then? You will be surprised to know that tomatoes and grapes are the most commonly eaten berries! Okay, so this is a bit high level for your four year old but they will love getting to taste different berries and then learn that they can change the color of their clothing as well.
After we do a berry taste test, we will make two big die baths. One with a rosy color filled with various types of berries and one with a strong golden color from turmeric and other plants from the Birds and Bees Garden. I will walk kids through how to tie rubber bands in their clothing to form a spiral pattern and then we will "cook" the clothes for awhile, reading a story about berries as we wait.
The clothing will be provided; we most likely will do a nice pair of socks that will come out tie-dyed with various shades of pinks and yellows. What's better? A fun pair of socks and a tasty treat for our minds and bellies!