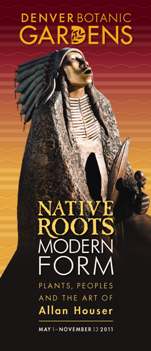 Denver Botanic Gardens proudly presents Native Roots | Modern Form: Plants, Peoples and the Art of Allan Houser (May 1- November 13, 2011), a multidisciplinary appreciation of American Indian cultural and botanical heritage. Sculptures by world-renowned American Modernist Allan Houser (Warm Springs Chiricahua Apache, 1914-1994) inspire a look at the Gardens' native plant collections and their Native American ethnobotanical uses. By bringing together the work of Allan Houser and ethnobotanical plants used by American Indian tribes, Denver Botanic Gardens aims to deepen visitors' appreciation of Native arts and the value of plants in our daily lives.
Allan Houser held a deep reverence for nature and created his artwork with the landscape of the American Southwest visible right outside his studio doors. He first became known for his success in painting and later became an international icon for his figurative and abstract sculptures. Reflecting influences from various Native tribes as well as European art and culture, Houser's sculptural work explores both Native American themes and universal ideas.
The inspiration Houser found in nature,  his native ancestry and modernism are highlighted in this exhibition alongside the Gardens' native plant collections of flora indigenous to the Rocky Mountains and the Southwest. Many plants used by American Indians - both currently and historically - for food, medicine, dyes, ceremony and construction of utilitarian objects are featured alongside Houser's sculptures. Look for labels throughout the Gardens featuring this ethnobotanical information.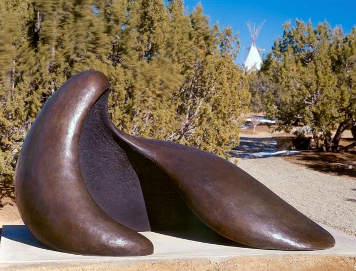 Native Roots | Modern Form: Plants, Peoples and the Art of Allan Houser exhibition runs May 1 - November 13, 2011 at Denver Botanic Gardens York Street and is free with Gardens admission. Special group rates are available. Programs for all ages offer fun and relevant ways to learn more about tradition and contemporary trends in Native American art and plant knowledge. Look for additional exhibits, speakers, plant programs, guided tours, hikes and trips offered throughout the year, including the upcoming lecture with Houser scholar Dr. W. Jackson Rushing, III, "Unconquered: The Art of Allan Houser, American Master" on May 11, 2011.
Visit the Gardens' website, www.botanicgardens.org, for more information on ticketing and related programs or call 720-865-3500.