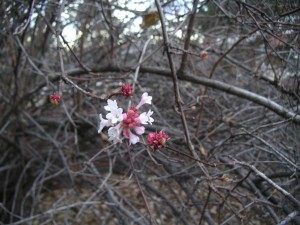 [Each week I will check in with a staff member to find out what they have been up to, what they recommend seeing, and what advice they have for gardeners. Gardener Jackie Raehl is profiled this week.]
Jackie Raehl has been on staff here for several years. She is the person you might see making her way through the grasses in the wedge garden alongside the parking structure, and she also is responsible for the care of the Woodland Mosaic Garden, Sacred Earth Garden, Anna's Overlook, and the Endangered Species Garden. Jackie is involved with our staff Green Team, and she has a new baby daughter.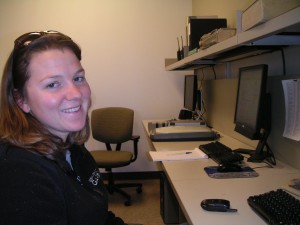 For Jackie, the first week of the year means making a pruning plan for tackling some of the trees in her gardens. Winter is a great time to prune, since trees are dormant and their structure is not hidden behind leaves.
She is also doing some deep watering, as the weather permits, since we have had such a dry winter so far. She advises watering on a warm day when it's not windy, and making sure the trees and shrubs get regular drinks in the winter if we have no snow cover.
Jackie is spending some time this week looking through seed catalogs and websites, planning her purchasing. Now is a good time to order for spring, while nurseries are full of the best of 2011 stock. Generally, nurseries will hold orders until the appropriate planting time, so indulge in a little post-holiday garden shopping!
Look Out For: Jackie pointed out the flowering viburnum blossoms (Viburnum farreri) at the back of the Woodland Mosaic Garden. She says they often flower twice each year: in December or January and again in April!