More blue poppies? A pilgrimage to the Mecca of rock gardening...
June 29, 2013
Panayoti Kelaidis
, Senior Curator & Director of Outreach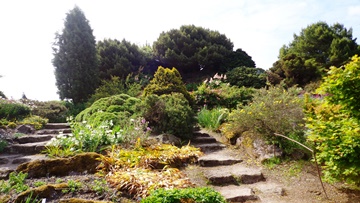 The rock garden at Botanics
In Scotland they refer to it as "Botanics"--the Royal Botanic Garden in Edinburgh resonates for anyone who has visited. I spent almost a week in April studying there in 1981, a year after I started working at Denver Botanic Gardens. I remember the exhiliration of that first trip, and how discouraged I was to think that we could come anywhere near the extraordinary polish of this garden on the windy, semi-arid steppes of Colorado. I've managed to go back to Edinburgh every few years since, and every time I am astonished at the enormous scope, the excellence and the beauty of this urban botanic garden: I can think of no better model for us to emulate and try to replicate in our very different climate.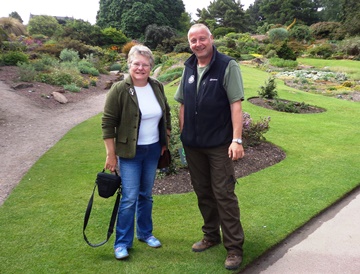 Dr. Bainbridge and John Mitchell
Dr. Carole Bainbridge (on the left) was my Cicerone this trip. Carole is President of the Scottish Rock Garden Club which celebrated its 80th Birthday last week in Pitlochry. She invited me to give one of the keynote talks at this event--a tremendous honor. For me the reward of being in Scotland at the very height of late spring and early summer color was priceless (and the high temperatures in Edinburgh during my visit were lower than the lows in Denver during the week of my trip--very cool!). John Mitchell on the right is a lead horticultural supervisor at "Botanics." He oversees a vast swath of the Gardens premier gardens. He took time to show us around this past Tuesday.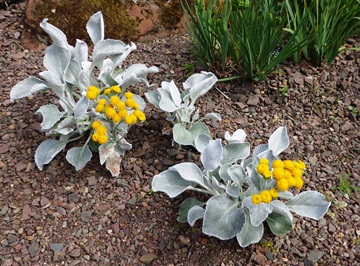 Senecio candicans
Visitors to Botanics know that there will be untold numbers of unusual plants grown to perfection. This Patagonian ragwort has germinated many times in Denver, but it needs the cool, Maritime conditions of Edinburgh to strut its stuff!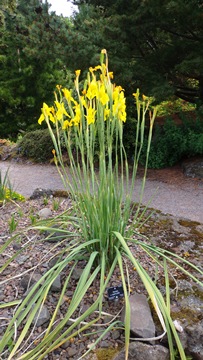 Moraea spathulata
The two greatest botanists studying the South African Drakensberg, Drs. Olive Hilliard and William Burtt, worked at Botanics for the last decades of their careers. It's not surprising that there are a wealth of South Africans in the rock garden collections. Although we grow the closely related Moraea huttonii, this is the first time I've seen the true Moraea spathulata in a public garden. What a stunning clump!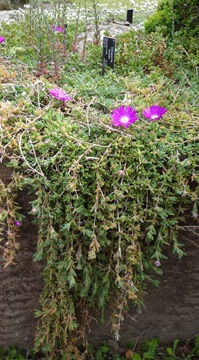 Delosperma lavisiae
The only pink-flowered delosperma at Botanics was this wonderful trailer--utterly different from plants we grow under the same name. South Africa never ceases to amaze!
Helichrysum ecklonis
I was truly shocked and thrilled to find this planting of Helichrysum ecklonis in the raised bed area near the alpine houses: I had just blogged about the choicest Helichrysums and had to use a friend's picture of this. I have collected seed of this in the past, but never had luck growing it. I was more than a little jealous to see it thriving here, alongside hefty clumps of Dianthus callizonus from Romania, and that purple orchid (Dactylorhiza purpurella I believe). Dactylorhizas are rarely (if ever) sold in the United States, but in Europe they are practically lawn weeds. I saw a half dozen species growing throughout Botanics. With few exceptions, they were all self-sown and probably local natives.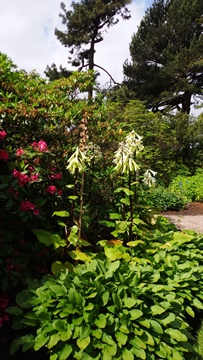 Cardiocrinum giganteum
As dazzling as the alpine sections always are, the Woodland Gardens were particularly stunning this trip. Mitchell's staff had completely renovated the famous peat beds (an innovation of Alfred Evans, one of RBG's great plantsmen). There were enormous drifts of primroses of all kinds in full bloom, ericads galore, and many clumps of the Giant Himalayan lily (Cardiocrinum giganteum). That's where the blue poppies abound, and every other sort of Meconopsis too for that matter. I could easily fill fifty blogs with highlights from the Woodland gardens alone, but shall only show one more gem that I saw there.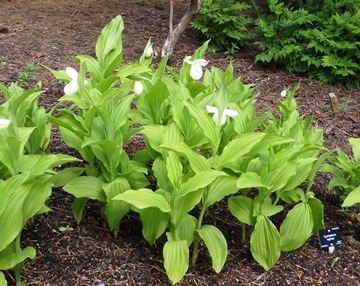 Cypripedium reginae (albino)
I was lucky to arrive in time to see this wonderful clump of albino Queen Ladyslipper coming into full bloom. There was a very long bed that had recently been created to accommodate a wide assortment of these spectacular orchids which are becomming widely available in nurseries in recent years. Nurserymen in Netherlands and Germany have cracked the code on how to germinate and grow these. I was astonished to find plants for sale this spring in Aurora, including this albino beauty!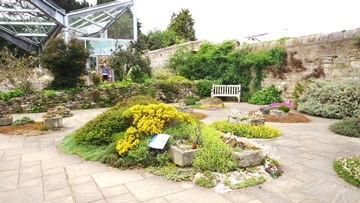 Alpine house plaza
As if the enormous woodland gardens and rock garden weren't enough, there is a large area dedicated to alpines grown in pots and troughs. This area has been expanded recently to include a very elegant and modernistic Alpine House that is designed to grow challenging plants that do best growing in cliff-like environments. It makes a wonderful contrast to the traditional alpine house nearby, where everything is still largely grown in containers.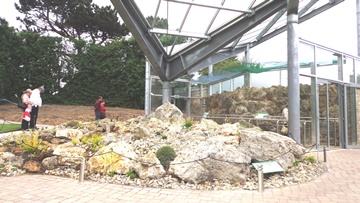 Tufa mound
Here is the freshly built tufa mound directly in front of the new Alpine House. It is protected from excess rain by a wonderfully modernistic cantilevered extension of the glasshouse. If you look beyond, you can see the tufa walls that are the feature of this fabulous new building.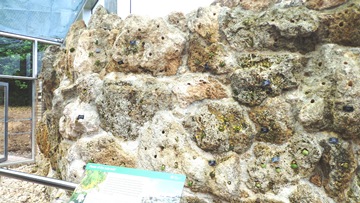 Tufa wall
Here is a closer look at the dramatic wall of tufa at the back of the new alpine house. It has had dozens of holes drilled into it, and filled with freshly planted choice alpines--Dionysias and a wide spectrum of Primula allionii clones collected in nature to name two notable groups. Of course, they are still very small, but I expect this wall will look spectacular next spring and every year thenceforward! What a treat to get a glimpse, even before the building had properly been dedicated!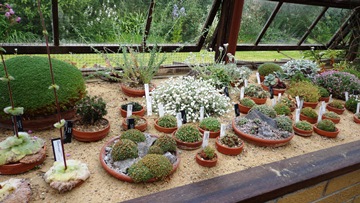 The "old" alpine house
It wouldn't do to proceed without a quick look into the "old" alpine house, which was as spectacular as ever. Here gnarly and vast old specimens of practically any alpine you can imagine has been displayed over the years. They are brought in as they are coming into their glory, and you can look at them at eye level. This display always reminds me of a kind of jewel box. You can spend a very long time poring over these jewels, believe me!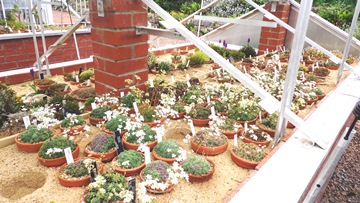 Cold frames
If you are lucky, or make arrangements, there is a very large area behind the walls next to the alpine houses where there are bank upon bank of elevated cold frames, smaller alpine houses, bulb greenhouses and raised beds where plants undergoing testing and observation are kept. This is the inner sanctum of Endinburgh which I first visited when it was much smaller over thirty years ago. I can't imagine how many thousands of kinds of choice plants are kept here. I can say that I recognized some plants that I saw there on my very first visit, larger and upsized to be sure, but I recognized the plants. Just as all museums have "holding areas" for their collections, so too do botanic gardens, and none has more treasures in reserve than Botanics!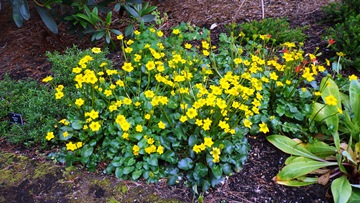 Caltha scaposa
It is a kind of excruciating torture to attempt to encapsulate or "boil down" the likes of Botanics into a handful of images from one brief morning's walk. It would take many days of observation to begin to take stock of all that was in bloom this week, and it would take a handbook to do it justice. You have no pictures of the vast sweeps of Rhododendrons, many still in bloom (Edinburgh has one of the best collections of these in the world), nor have you seen the vast perennial borders, nor the many large conservatories filled with tropical, subtropical, Mediterranean and desert plants. You have not had an inkling of the vast research collections, nor the monumental Herbarium which has propelled enormous projects like the Flora of Turkey and the Flora of Bhutan to name just two. This marsh marigold I end with shall have to suffice. Relatively recently cultivated, this miniature versian of the common Cowslip found in the eastern USA and much of Eurasia is a fraction of the size, and it blooms several months later. From the fastness of alpine heights in China, it has gained a toehold in cultivation: I was enchanted to see it in several private gardens. But at Botanics there was a veritable sweep of it and I was duly impressed.
I was privileged to visit nearly a dozen botanic gardens in Central and Northern Europe this past spring, and I have been to over 100 public gardens in America, but I don't think any public garden grows as wide a spectrum of plants nearly as well as the RBG at Edinburgh does. May I recommend June for a visit? I guarantee it will knock your socks off!