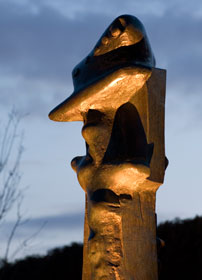 Prepare your calendars! In celebration of Denver Arts Week's Night at the Museums , the Gardens will host "Moore by Moonlight" on Saturday, Nov. 6. We're collaborating with 3rd Law Dance/Theater  to bring you a stunning evening full of drama, light and dance inspired by the works of artist and sculptor Henry Moore.
The abstracted human figures of Henry Moore's works are a natural inspiration for dance and performance art.  If Moore was looking to the human form when he was crafting his colossal sculptures, then drawing on Moore's work to explore dance and mulitmedia performance becomes a fascinating study in movement. 
3rd Law Dance/Theater and multimedia artist Darwin Grosse draw upon the ideas in Moore's works and writings to create new work inspired by human form. This formative collaboration between dance and multimedia art is certainly going to have us all thinking about the works of Henry Moore in a new way. 
Enjoy FREE admission for "Moore by Moonlight" on Saturday, Nov. 6, 5-10 p.m.
Look for the immersive multimedia installation and performance of 3rd Law Dance/Theater at 6, 7 and 8 p. m. in Mitchell Hall.
You can also enjoy free tours of "Moore in the Gardens" on a first-come, first-served basis at 6:30 p.m. and 7:45 p.m. leaving from the Boettcher Memorial Center.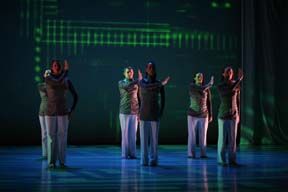 For more on Denver Arts Week at the Gardens visit our website.
This special collaboration with 3rd Law Dance/Theater is supported by contributions from the Millstone/Evans Group of Raymond James; Felicia Furman; Noel and Terry Hefty; and the Paradigm Nouveau Foundation.