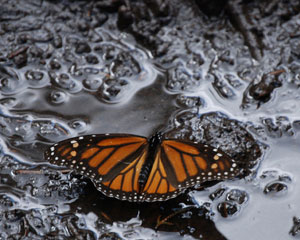 Every winter, the cloud forests in the mountains of central Mexico play host to millions and millions of over-wintering monarch butterflies. The annual migration of these monarchs from the Great Lakes region is one of nature's greatest mysteries.  The Gardens is offering a once in a lifetime opportunity for you to get to experience this migration yourself.  Join Sarada Krishnan, Director of Horticulture at Denver Botanic Gardens (and previous Director of Horticulture and Conservation at the Butterfly Pavilion in Westminster; and author of "Butterfly Pavilion's Butterfly Gardening: A Guide for Colorado Gardeners") on an incredible trip (February 5-12, 2011) to Michoacán, Mexico to witness the beauty of this amazing monarch journey.  Sarada's depth of knowledge, enthusiasm and passion are sure to make for an unforgettable experience for travelers joining her in Michoacán.
Incredibly, four to five generations separate the monarch populations that make this long and dangerous migration. The monarchs creating the spectacle in Mexico are the great, great grandchildren of the generation that migrated there the year before. Seeing the sheer abundance of monarchs, bending fir branches with their weight and sounding like raindrops as they take to the air, is an encounter not to be missed.
For more information and a full trip itinerary, visit ReefsToRockies.com.
Be sure to also read Sarada's blog post from the previous year's migration trip.