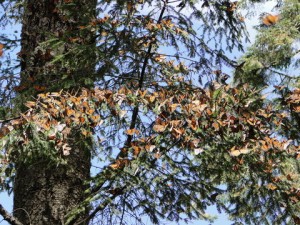 We start from Morelia early in the morning northeast towards Tlalpujahua to Sierra Chincua. The drive is approximately three hours. One of five publicly accessible sanctuaries, Sierra Chincua is the wintering site of millions of Monarch butterflies that fly south to hibernate during the winter months, from November to February.
Of all migrations, that performed by the Monarchs is an astounding feat, with these butterflies traveling between 2,000 and 4,500 kilometers or more between their starting and ending points. What is even more remarkable is that butterflies that return to hibernation sites have actually never been there before. These are the great-great-great-grand children of those that performed the tedious journey the year before from southeast Canada and the United States to central Mexico.
The butterfly colonies migrate down the hill with changing temperature conditions. This year, the location of the wintering site is a good 2+ hour hike from the entrance to the sanctuary. Portions of the hike are quite arduous with steep downhill climb through paths of loose and slippery soil. Arduous though the trek is, once we reach the wintering location, the trip is well worth the effort. Millions of butterflies congregating on the oyamel fir trees (Abies religiosa) are a remarkable sight and a once in a lifetime experience. With the rising sun, the butterflies become active and start fluttering around.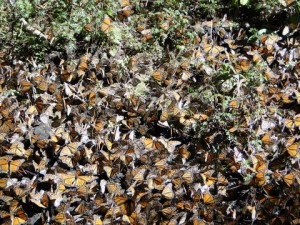 Having visited this same site last year, a remarkable difference I see is the improved infrastructure. A new visitor entrance has been built with improved amenities such as bathrooms, shops and restaurants. As I see this development, I am filled with mixed feelings. The economic development will hopefully provide a better earning opportunity for the local residents, most of who live in abject poverty. On the flip side, is this development going to become a commercial tourist endeavor, leading to degradation of the forest ecosystem? Only time will tell.