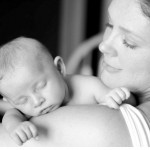 Yoga with your baby and other Moms or Dads is a great way to get some exercise and build community.  The little ones have fun, interact, dance and get a refreshing break from normal activities.  It is a chance to bond with other caregivers and share some wisdom, as well.
Depending on class size there is anywhere from 10-25 mins at the end of class for talking in a sharing circle that gives caregivers the chance to voice some challenges or triumphs they are having with their baby.  This can sometimes open up into a group discussion of what may have worked for others in their challenges in the past, thus creating an atmosphere where group knowledge can strengthen us all.   This unique aspect of class is often the favorite part for caregivers as many of us spend a lot of time alone with our children an
d are missing out on the "tribe" aspect of raising them.
Many studies have shown that the happiest people are those that get six hours or more of social interaction a day, and many of us are not getting that much, so come on out and lets do some yoga, have some fun, and boost our happiness!
Register online or call 720-865-3580 to get your and yours signed up for classes!  Mommy and Me Yoga (and Daddies, too!) takes place every Monday from 3 - 4:30 pm at the Gardens.
Guest Blogger: Chris Anne Coviello
Chris Anne also teaches an adult Kundalini Yoga class on Monday nights at 6pm at the Gardens and has been leading that class for the last four years.   In addition to teaching yoga, Chris Anne is the owner and operator of The Healing Space, where she offers massage, facials, private yoga sessions, Sound Healing with Tibetan Singing Bowls,  Reiki, and  Aromatherapy.  You can find her at www.thehealingspace.biz and on Facebook at The Healing Space.  You can also reach her by phone with questions 720-300-5683.