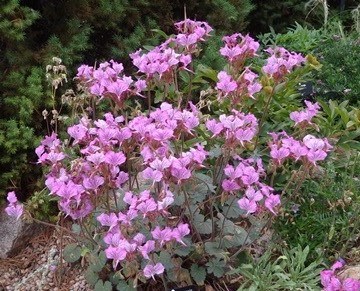 The hardy "Geranium"
Savvy gardeners will tell you that "Geraniums" in common parlance are really "Pelargonium" (their proper Latin Name) and generally tender plants. There are, in fact, two true Pelargonium that grow only in Eurasia, and both of these are thriving at Denver Botanic Gardens: the smaller, but still very showy species is pictured above: Pelargonium endlicherianum is pretty widely distributed at higher altitudes across Turkey. Mid July is when they come into their special glory--and it is well worth the jog back to the Rock Alpine garden to see the clumps there coming into spectacular bloom.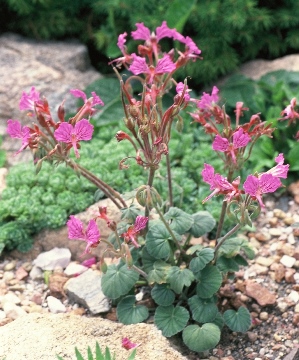 Pelargonium endlicherianum
Here is a clearer picture of a younger plants not so overwhelmed with flowers: you can see the lustrous, leathery leaves, and the butterfly like blossoms that don't immediately strike most of us as being like geraniums: actually quite a few Pelargoniums have these asymmetrical blossoms. I believe they give this plant an extra measure of grace and interest. It was first cultivated in this area in the 1980's from several collections made in Turkey at that time--and several Colorado nurseries, namely Laporte Avenue Nursery in Fort Collins and Sunscapes in Pueblo have been the only nurseries to consistently offer this rare plant in commerce. In fact, they almost always have specimens for sale at our Botanic Gardens plant sales. It needs a well drained, sunny rock garden to really thrive here--but there are venerable individuals in dozens of local gardens, showing that this is indeed a keeper. Many years ago I featured Pelargonium quercetorum on this blog--an even rarer plant in commerce and the wild.
Now is the time to wend your way through the stunning Chihuly sculptures and the wildly romantic gardens to worship at the feet of this little Turkish waif: in its own way, it creates quite a spectacle!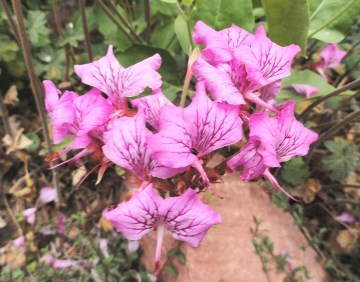 Closeup of flowers
Notice that there are subtle differences between all the pictures I've shown you: this is an incredibly variable plant--and it seems to vary from year to year. Now that you have read this blog and become an expert, next time some clever windbag starts to tell you that Pelargoniums aren't hardy at a cocktail party, you can beg to differ!