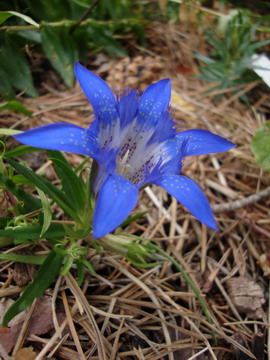 Gentiana paradoxa x septemfida
Mention gentians, and die-hard wildflower lovers will sigh, or maybe even squeak with delight. No group of native wildflowers elicits such deep emotional devotion (except maybe columbines...but I digress). There are fantastic gentians growing across the world's high mountains blooming from earliest spring to the last bitterly cold nights of early winter. But August to me is gentian month in Colorado. Two gentians especially fill my garden at home --and make a fine statement in the Rock Alpine Garden as well right now: these are the Caucasian gentian (Gentiana septemfida) and the much rarer Threadleaf gentian (Gentiana paradoxa) also from the Caucasus, and their increasingly common hybrid strains.
There are other coarser summer blooming gentians occasionally sold by nurseries, like the East Asian Gentiana dahurica, but the Caucasian species are so much showier, and so adaptable and long lived in the garden that they really should be in everyone's garden. The cobalt blue color is incomparable, with its satiny sheen. But if you peer into the speckled and intricately pattered blossom you will stand amazed.
Gentians are usually associated with alpine gardens, and their elegance of form and compact habit certainly justifies their being there. But these Caucasian species thrive in rich garden loam and would stand out in a flower border. They do need regular irrigation and a loamy soil to persist (they're not for the xeriscape).
You are apt to encounter one of several glorious native gentians if you drive most anywhere at higher elevations in the Rockies right now. Check out this page to catch a glimpse of several gems blooming right now in South Park:
http://www.facebook.com/pages/Denver-CO/Botanical-Illustration-Certifica...
The best patches of gentians at DBG right now are on the North Ledge of the Rock Alpine Garden, South and East of the Alpine House just east (left) of the waterfall. I've seen Caucasian gentians at a handful of local nurseries, but you'd better get them quick: they don't last long once their heavenly flowers open up. As William Cullen Bryant said of them:
Blue—blue—as if that sky let fall
    A flower from its cerulean wall.