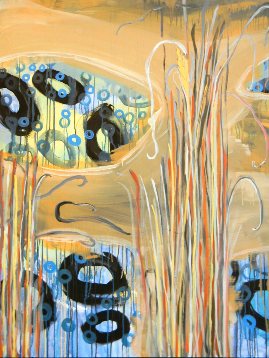 Story Keeper: Works by Melanie Yazzie marks the start of an innovative, year-long look at contemporary Native arts that explores ideas and issues facing today's American Indian communities.
At this gallery talk, local artist Melanie Yazzie (Dineh, the term Navajo use to identify themselves) shares stories of her artistic process and talks about the plants she found throughout the Gardens that inspired this new body of work.
Artist Talk:
Thursday, March 10, 2011 from 6 - 7 p.m.
Location: 1007 York Street in Gates Hall in the Boettcher Memorial Center
Cost: FREE - please RSVP to exhibits@botanicgardens.org
The exhibition runs Feb. 9 - May 8, 2011, in Gates Garden Court Gallery in the Boettcher Memorial Center and is free with admission to the Gardens.
Story Keeper: Works by Melanie Yazzie is part of a year-long look at Native American contemporary arts alongside the Gardens' 2011 signature exhibition Native Roots | Modern Form: Plants, Peoples and the Art of Allan Houser. Opening May 1, this outdoor exhibition features the sculpture of American modernist Allan Houser (Warm Springs Chiricahua Apache, 1914-1994).