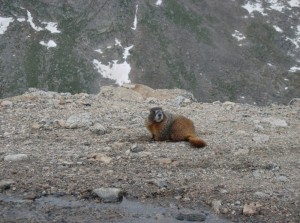 The first one I ever met followed me up 3,000 feet in Rocky Mountain National Park. At each turn, he stood at attention to cheer me on, or was he scolding me?Since arriving at the Gardens, I have heard tales of one who dead-headed petunias for a few years and now stands frozen (actually stuffed) in our Library.
Any mountain hiker in Colorado has heard a strange chirping noise that has caused them to scan the tops of peaks in search of a large, mysterious bird. It turns out, this high-pitched squeak is coming from a large, mysterious rodent, the marmot, or as some call it, the whistle pig.
Rising above the Mordecai Children's Garden, this chubby creature now has a place of honor. Marmot Mountain provides visitors with a sweeping view of downtown Denver and the Rockies, connecting to the place where marmots gather, the high peaks and rocky terrain above 10,000 feet. No doubt, you'll spot marmots everywhere you look at the Mordecai Children's Garden.  But if you ever want to see the real thing, visit
Mount Goliath
, on the road to Mount Evans, where Denver Botanic Gardens maintains a stunning mile-plus trail.