This post was written by Herbarium Database Assistant Sarah Snow.
We just snapped our 10,000th photo in the Kathryn Kalmbach Herbarium! Since the beginning of February, we have been working in conjunction with several fantastic volunteers to systematically photograph each specimen within the collection. These images will then be added to our online database (SEINet) to increase awareness of and access to this valuable resource. By housing the images online, the data stored within our walls will be turned into information that can be used by even more researchers and members of the general public.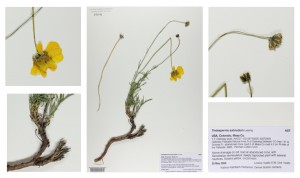 Our 10,00th image! A Thelesperma subnudum specimen from Mesa County, Colorado.
The majority of our collections document plant species diversity within Colorado and the Southern Rockies, but the collection also holds specimens cultivated at the Gardens as well as plants collected in farther reaching areas of the world. Each specimen is dried, pressed, and affixed to a herbarium sheet with important identification, locality, and habitat information.

Plants collected in the field are carefully documented, pressed between newsprint, and brought back to the herbarium to be made into specimens.
Herbaria collections have many potential uses. Specimen materials allow for identification, comparing variation, and tracking evolutionary relationships. Label data may also be used to create field guides and floras, to promote habitat conservation, and to monitor the spread of invasive species and the effects of global climate change.
Within the next few months, images should begin to appear on our online database for public use (SEINet), and by the end of the year we hope to have photographed all 50,000 of our vascular plant specimens. In the upcoming weeks, we will also begin a similar imaging process within the Sam Mitchel Herbarium of Fungi.
You can find out more about Denver Botanic Gardens' two herbaria and their online databases at our website.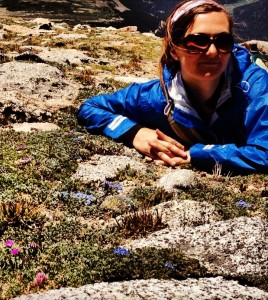 Herbarium Database Assistant Sarah E. Snow is interested in how people learn outside of school settings. At the Gardens, she helps facilitate the sharing of collections information through database management and specimen digitization.