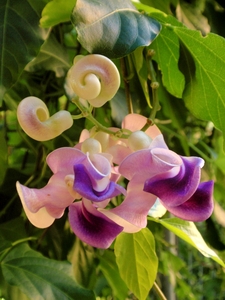 Only two days left to enjoy my time at the Montréal Botanical Garden. So, I decide to walk in the Courtyard of the Senses where the signs that identify the plants are written in French, English, Latin and Braille. On the MBG website there is a quote by Antoine de Saint-Exupéry, the man who wrote the French classic, The Little Prince: "L'essentiel est invisible pour les yeux." (The essential is invisible to the eye). With this in mind, I marvel at the beauty of the delicate snail flower, and then I close my eyes and touch a velvety silver sage shrub; then the velcro-like ribs on the underside of the leaves of a madder plant. I take in the scents of the oakleaf geranium and curry plant and listen to the papery sound of a strawflower. One of the activities in this particular Garden includes placing a blindfold over the eyes so that a person has an inkling of what it's like to be blind. I have heard that sometimes guide dogs are included in the activity.
After visiting the Courtyard of the Senses, I spend a few moments in the Turkish Peace Garden which was created by the Turkish community in 2000. Its Moorish design recalls the beauty that flourishes in every culture the world over. MBG highlights those distinctive attributes in a dynamic and creative way; the Japanese Garden, the Chinese Garden, and the First Nations Garden all pay tribute to horticulture from the world over. One of the curators here, René Giguère, is interested in knowing more about Denver Botanic Gardens' South African Plaza in hopes of creating his own South African Garden at MBG.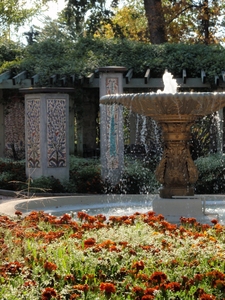 Mostly, I take time to remember the people I have met: their smiles, warmth, openness, kindness, generosity, and curiousity. I am inspired by their love and respect for nature and their ability to bring so many cultures together.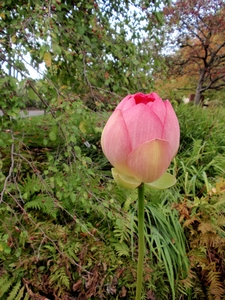 As Saint-Exupéry said so well, beyond what we can see is something of a greater worth; we need only walk into the world, one step at a time, and keep ourselves open to the mysteries and magic that await us at every turn.
Merci infiniment, au revoir, et á tantôt.