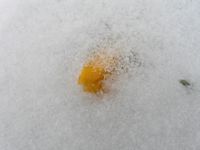 When I wrote that I was unsure how to live within a Western landscape in drought, it it immediately seemed that Nature took offence and sent snow and precipitation directly at us.  We're still in a drought, but the winter storm that forced us to reschedule Susan Tweit and Jim Steinberg certainly illustrated another way to live within the landscape. 
Spring bulbs can't dodge out of the way of a wintry storm, but we animals can hunker down and take shelter.  We have to give up on our schedules and self-imposed deadlines, like giving up on water-hogging plants in a steppe climate garden.  Sometimes its much better to change your human plans in the face of honest nature.  So the talk is rescheduled for April 14, the daffodils seem to have thawed out just fine, and the robins are still hopping around.
Another class focused on nature is A Home for All: Landscapes for Wildlife.  It's another class co-sponsored by the Gardens and the FRSLC. "Urban Nature" was the Garden's signature exhibit last year, and it's a theme that is likely to be with us for a long time to come.  Whether it's birds in the trees or a fox hunting through tall grass, we humans find a great satisfaction in spotting the wildlife visitors to our landscapes.  Snow even gives us the opportunity to search for tracks we'd otherwise miss.
Why do we spend so much time looking for and caring about these animal visitors to our backyards?  After all, they are transients that are here and gone and the plants are the denizens we live with constantly.  Animal visitors are precious to us precisely because they can leave.  To find a nest or burrow is a sign of acceptance: our urban landscape is approved by nature.  The more determined plant lovers among us may resent any herbivorous depredation on our precious foliage, but even so, most gardeners find pleasure in watching wildlife even as we secure the barrier protecting the tomatoes.
For those who are interested, register in advance.  Kevin J Cook also shares his own thoughts about wildlife at his web site.