A cool and rainy summer brings a different, yet inspiring water garden display to Denver Botanic Gardens.
Visitors traversing the Gardens from the southeast corner are again treated to the soothing magical sounds of water, waterlilies galore and dramatic reflections.
Romantic Garden Pool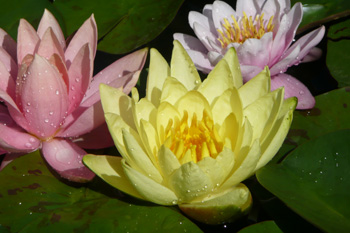 Photographers marvel at the formal display of Denver Botanic Gardens signature waterlilies, The Rocky Mountain Legacy Collection (RMLC). Featured here this summer are the delightful pink Nymphaea 'Denver's Delight' (Denver Botanic Gardens) and French vanilla N. 'Denver' (Strawn). RMLC waterlilies are displayed eloquently throughout the Gardens' pools.
Fun Time and a Touch of Glamour
Turning heads in the El Pomar Water Garden is a stimulating fountain arrangement consisting of eight adjustable fountain heads, allowing for an assortment of exciting sprays and patterns. Synchronized lighting patterns add still more fun and glamour for nighttime visitors.
Our large fountain in the Victoria Pool is now decorated with a soothing magical mist. Don't miss it!
Bea Taplin, a New Name for a Vigorous and Beautiful Waterlily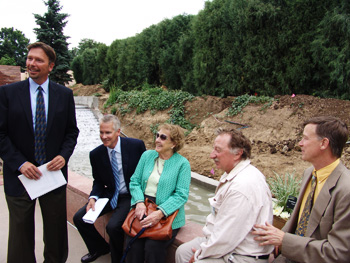 A ninth member to the RMLC was added this year. The versatile and beautiful white waterlily from nearby Berkeley Lake, was christened N. 'Bea Taplin' by Chief Executive Officer Brian Vogt at the July 28, 2009 dedication of the Welcome Garden. Bea Taplin is a long-time, cherished Gardens' supporter.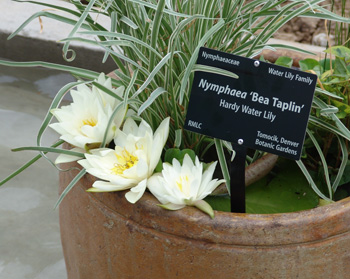 The luminous 'Bea Taplin' is displayed eloquently in the Victoria Pool, along with a multitude of beaming hardy waterlilies. Too, here you will find the giant water platter, Victoria 'Longwood Hybrid' (Nutt).
When will it flower?
Zen Doorway Garden and a Special African Waterlily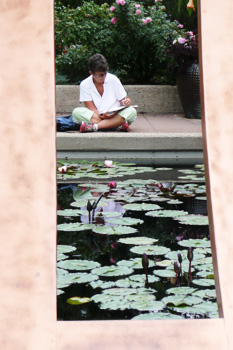 The Zen Doorway Garden this year is decorated with an intriguing and vigorous prickly waterlily from India, Euryale ferox; oddly, the flowers readily produce seed and do not come out of the water in our pools. Two additional thriving prickly waterlilies are in the Monet Pool.
Also in this pool is an important species, the Cape blue waterlily, N. capensis. This stately plant was originally grown from seed by Associate Director and Native Plant Curator Dan Johnson. Dan collected the seed on an earlier visit to South Africa.
All is well in Monet Pool
The Monet Pool is ablaze with deep reflections and a multitude of sparkling hardy and tropical waterlilies.
The RMLC favorite N. 'Denver's Delight' is again found here at the south end of the pool.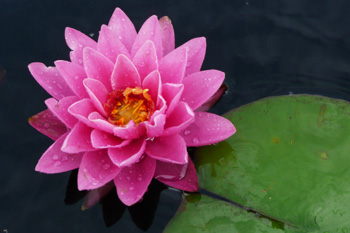 Along the west side are favorites N. 'Moon Dance' (Florida Aquatic Nurseries), N. 'Barbara Dobbins' (Strawn), N. 'Pink Ribbon' (Songpanich), and N. 'Mayla' (Strawn).
Flowering abundantly and dramatically are the RMLC favorites N. 'Colorado' (Strawn) and N. 'Joey Tomocik' (Strawn).
Exciting introductions of Luster Aquatic Nursery and Florida Aquatic Nurseries are at the north end of the pool and at the Gazebo.
Setting records with a spread of 10 ft. 6 in. are N. 'Foxfire' and N. 'Midnight Embers' (Luster Aquatic Nursery).
Early risers might get a glimpse at an amaranth red night flowering tropical waterlily N. 'Emily Grant Hutchings,' on the west side of the Monet Pool. The night bloomers are often called the businessman's waterlily as they flower at sundown, closing mid-morning of the following day.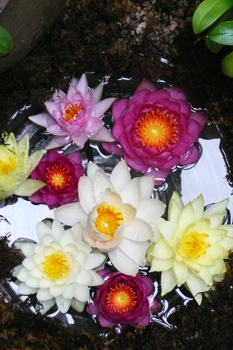 Award Winning Waterlilies from Tamara Kilbane and IWGS
Something new this summer, Tamara Kilbane of the Sarah Duke Gardens Durham, North Carolina this spring kindly sent us award winning hardy waterlilies from the International Waterlily and Water Gardening Society (IWGS) trials, which she oversees along with noted volunteer John Wyman.
In the gazebo waterlily trials area find N. 'Miss Siam' (Songpanich), N. 'Tan-Kwhan' (Songpanich), N. 'John Wedgwood' (Protopapas) and N. 'Niki' (Protopapas).
Showy Marginals
Also in the Monet Pool (and other pools as well) are the maroon–leaved Canna 'Australia' and Longwood hybrid cannas C. 'Erebus' (pink) and C. 'Endeavour' (red).
With broader red stems is the showy Thalia geniculata f. rheumoides.
Sporting aromatic iris-like leaves is the hardy sweet flag, Acorus calamus.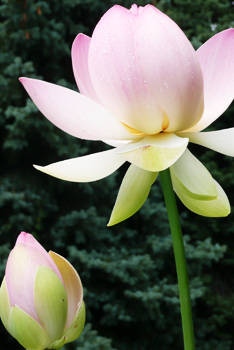 Finally, a leisurely walk through the Japanese Garden will surely be enjoyed. Near the viewing deck at the north end of the Garden is the venerable lotus Nelumbo nucifera 'Mrs. Perry D. Slocum', planted by interns three summers ago. The first flower has just been spotted on the tiny N. 'Rosy Clouds' at the north side of the Garden. 'Rosy Clouds' was planted by invaluable water gardens volunteer John Bayard. And did you stop at four corners to enjoy a newly flowering tiny gem, N. 'Evening Shower'?
Gratitude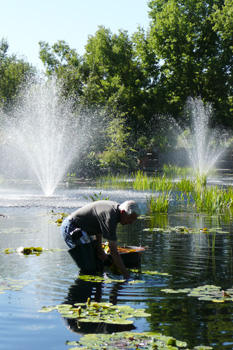 A hardy thank you is again in order for all who have kindly contributed to the 2009 water gardens display. Notables include the Gardens staff, volunteers of the Colorado Water Garden Society, Kit Knotts (Water Gardeners International) the 2009 summer interns and dedicated and joyful summer volunteers.
Additional notables:
Cleo Parker Robinson and Cleo Parker Robinson Dance Ensemble, community icons
Daniel L. Ritchie, Chancellor Emeritus University of Denver, Chairman and CEO Denver Center of the Performing Arts
Mark Hathaway, Arborist, University of Denver
WGI and IWGS, member nurseries
Len and Doris Freestone, Bernice Pete Peterson Awards
Gary Davis and Denver Zoological Gardens horticulture staff
Gary Douglas and the City Park greenhouse staff
Bill Powell and Marge Oleson, CWGS volunteer coordinators
John Bayard, stealth volunteer
Allyson Felix, three time 200 meter World Champion
Ron Tomocik, accordionist
Finally, a special thank you to our Director of Horticulture, Sarada Krishnan.
See you poolside.