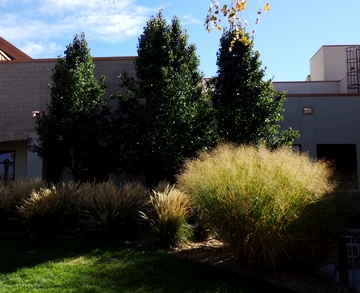 Panicum virgatum 'Heavy Metal'
I sometimes get a tad tired of sophisticated gardening friends who are always crowing about how Autumn is really their favorite season...as a firm fan of Spring and Summer, Fall comes in a distant third for me personally...but then again a few luminous days of Indian Summer when all the trees begin to take on golden, orange and red tints, and on my way home I suddenly notice this backlit monstrously large and gorgeous grass glowing in the backlight...I almost give in and agree! I have written elsewhere about our native forms of Panic grass, (which is also called switch grass), but this is my first foray into talking about what has to be one of the most versatile and spectacular ornamental grasses.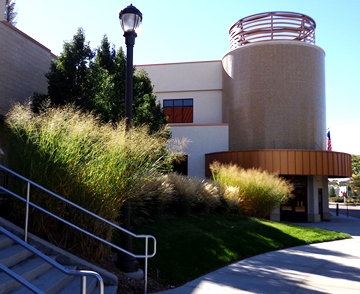 Infinity Park Sports Center
This planting I first feature is at the Events Center of Glendale--which I often pass on the way to and from work. It's what I would characterize as a very simple, functional landscape (and well maintained). For several weeks--OK, for several months the grasses put on a wonderful spectacle here that makes you wonder why they are not more often used. There are at least a dozen cultivars of Switch Grass widely sold by mail order nurseries and garden centers. In humid climates they can become massive, often self sow considerably, and worst of all, they are prone to falling down and being unsightly in overly rich soils or rainy climates. They don't seem to present many of these problems--and there are so many to pick from including a few rather dwarf kinds that there is really no reason they shouldn't be in every Colorado garden. Particularly when our local nurserymen get wise enough to pick some of our super xeric local forms...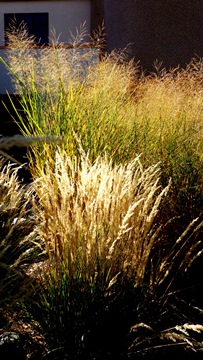 Closeup shot of grasses
Here's a closer view of the Infinity Park planting--with Calamagrostis x acutiflora 'Karl Foerster' in front. I have gone on record ranting more than once on how overplanted Karl Foerster is. Well--this planting has me recanting: the two grasses really complement one another, and I have to say their dense planting of the Calamagrostis was striking. Even a cliche plant can come through in a thoughtful design!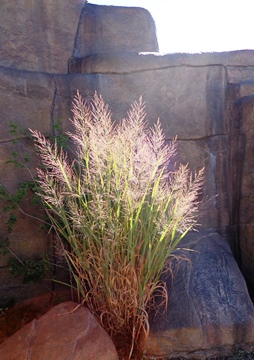 'Heavy Metal' at Denver Botanic Gardens' Chldren's garden
Of course, you don't have to go to Glendale to see panic grass grown well: I took this picture at the fantastic Children's Garden at Denver Botanic Gardens almost two months ago--the darn grass really does have a long season (I was just at Infinity park today on the 8 of October--and I expect the grass will keep on looking wonderful). This does seem to be a particularly good performer for us, and the cultivar name is awesome! As is the case with so many of our classic landscape grasses, this was first named and distributed by Kurt Bluemel Nursery in Maryland. Kurt has a gift for giving plants memorable names, and this is no exception! I wish we would see more plantings of 'Shenandoah' and the various German selections, which often have much redder winter foliage...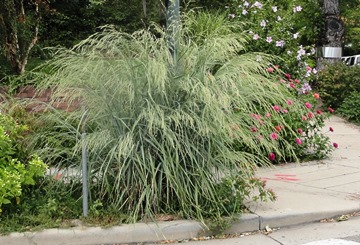 Panicum amarum 'Dewey Blue'
The one very different switch grass one sees on occasion around Denver is this shimmering blue fountain of a grass. This picture was taken in August a few blocks from the Gardens where I admire this for several weeks until the owners (or perhaps their contractors) year after year invariably cut it back right when it's at its very peak of beauty...perhaps fearing so much awesomeness on their corner? I put in a plea to you and everyone else in Denver. Please please please please please PLEASE don't go cutting down your grasses in the fall: they look magnificent in Denver all winter. However, you have my permission to cut them back in late January or February perhaps (when we always have a pleasant thaw) and you need ot get out and get some exercise!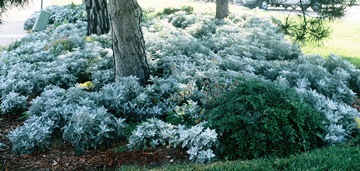 Dusty Miller (long gone, alas)
I know this picture looks a out of sync with the previous disquisition.  But wait! I took this picture nearly a decade ago at almost PRECISELY the same spot where the switch grasses I started my blog with are growing now: there used to be a large lawn at the same address (a park I believe) and a grove of middling Austrian pines. These had been underplanted with dusty miller by some clever gardener (Senecio cinerea) who, either deliberately or accidentally left them over the winter. As a few local gardeners know, dusty miller is a hardy perennial that can form quite impressive mounds in the right spot. And under these Austrian pines must have been that spot--they had obviously self sown and prospered, and many bloomed with their somewhat decorative yellow button blooms: I took a picture of them blooming but don't have it handy, so you have to take it on trust...but that big green mound in the front of the planting provides some proof: that's a GREEN dusty miller (a miller who has showered?)--something that obviously came up spontaneously...
When I heard Infinity Park would be built at this site I was sad to think the pines and dusty miller would go. I'm glad I took some pictures of them and have planted lots of dusty miller to perenniate in my garden in their honor (so to speak). But the panic grasses have proven to be a compensation for their loss. Who knows, Nature may have her own grand plan after all?