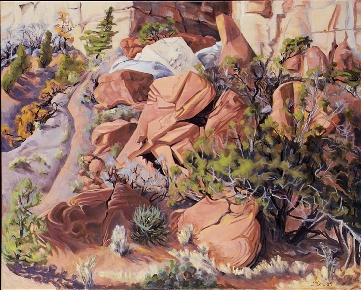 I've just finished hanging an extraordinary show—Joellyn Duesberry's Southwest: Sharpening the Edge.  I knew it was going to be a good show, but seeing it on the grand walls of the Gates Court Gallery, I realize it's exceptional.
Joly's work has an affiliation with the early Modernists who were living and working in Taos, like Walter Ufer, Victor Higgins and Nicolai Fechin. It's a tradition that suits her. The brushstroke, the way she captures shadow and light, and the immediacy of the experience really draw you into the paintings.  You may even recognize a few of the scenes.
We took the title from a quote from the artist, "…working all over Montana, Wyoming, Utah, New Mexico, and Colorado sharpened my edges…"  You'll have a chance to meet the artist at the opening reception on Thursday, January 28, 5:30-8 p.m.  Try to RSVP if you can -- exhibits@botanicgardens.org.