Yesterday, I drank jasmine tea and ate a mooncake at the Montreal Botanical Garden; it is the season of the Magic of the Lanterns, and the Chinese Garden is adorned with many colorful and graceful figures that have been designed in Montreal and made in Shanghai. They are filled with lights in the evening. It's a big event and draws massive crowds of all ages.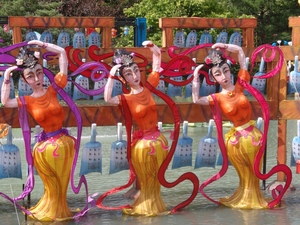 How lucky I am to be here! As a Visitor Services Associate at Denver Botanic Gardens, I am in Canada on a month-long workers' exchange created by the Montreal Botanical Gardens and Denver Botanic Gardens. My job here is to observe how guests at MBG are welcomed and informed about their visit to the Garden. I am also here to share what I have learned about great customer service from the Denver Botanic Gardens.
Let me just say that MBG is extraordinary. It is immense; a coworker gave me a tour yesterday which lasted six hours! Can you imagine? There is a Japanese Garden, a conservatory, a First Nations Garden which represents the Natives of Quebec, an Alpine Garden, a Perennial Garden, a Shrub Garden, a City Garden and beyond. With 185 acres to manage, there's plenty of space for creativity and experimentaion. There is also an Insectarium: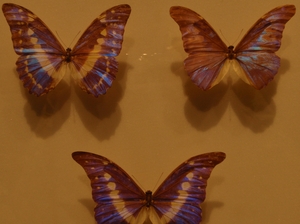 My new colleagues are very happy to be workng at MBG. They not only want to help visitors, but they strive to share the experience of the Garden with their guests. They like to laugh, too. Yet, they put me to work at the ticket counter much too soon; I'm still only remotely acquainted with Canadian money! Geez, how embarrassing, and no wonder they're laughing.