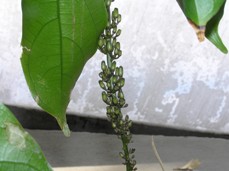 I am indebted to Nick Snakenberg for turning me onto this plant about to bloom. See the slowly fattening buds? Nick wrote:

"Our Jade Vine (Strongylodon macrobotrys) is in bud and should be blooming sometime in the next week or two.  Why are we so excited?  Because it's about time!!!  We've watered and fertilized and pruned and nurtured for over nine years and are only now being rewarded with flowers.  Also, it's one of the most amazing flowers you'll ever see...""Our specimen is the large vine covering the mezzanine above your head immediately after entering the conservatory doors from the lobby.  The best spot to view the flowers may be from the mezzanine itself, just to the south of the Dart Frog display."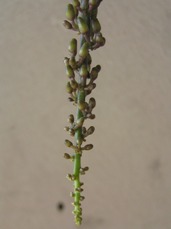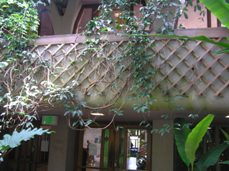 So when I finally got to see it, I realized how extrordinarily hard to photograph it was.  You'll have to come see it yourselves!