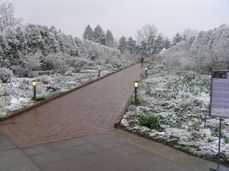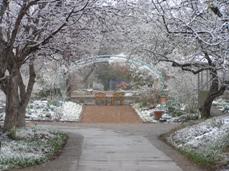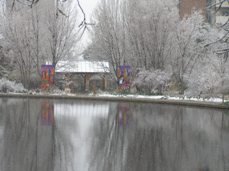 Wednesday's sudden snow may have been inconvenient for an evening commute, but it sure was lovely. Members who turned out for their night got a real treat, as long as they enjoyed the snow.  I popped out and grabbed a few shots before the flakes melted into my clothes. 
Wednesday night was also the first time that Urban Nature has been on display for an audience.  Congratulations to everyone who put that together!  The artwork appears in these pictures, but they are too small to be seen clearly.
The falling snow evoked a sense of season in me, and of beauty through timing and place.  It was a reminder that I am right here, in Denver, CO, and not Anycity, North America.  It should feel good to have a place to explore and understand, to live in and to grow in.
Next week's Bonfils-Stanton lecturer will delve directly into a sense of place and how it is formed.  Topher Delaney is an artist and the founder of SEAM studio in San Francisco.  Her website states "The place where we dwell...  is not an abstraction.  The sense of time is registered through light and shadow, the changing of the seasons, and the sense of place is our connection to the land...  Time and place are intertwined, experienced simultaneously." I have to admit I think of gardens as places, almost forgetting time.  Even when I'm thinking about the four seasons, its easy to think that one spring day will blend into the next.