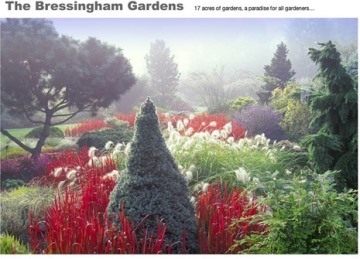 Ever dreamed of experiencing a great English garden first hand? Adrian Bloom, the mastermind of the garden shown above, and frequent visitor to America has written this:
Dear Coloradans,
I'm delighted to invite you join a group of mostly gardeners and horticulturists to do a "Blooms Tour" in June.  Rosemary and I so much enjoyed our last visit in September 2011 meeting up and being hosted by Denver Botanic Gardens Senior Curator Panayoti Kelaidis.  For me, witnessing the amazing development since my last visit many years ago was fascinating. Despite changes, what is so encouraging to me is that Denver Botanic Gardens and Colorado gardeners are still very much about plants – and very much about connecting to nature and local gardeners. 
 So with Denver Botanic Gardens and Blooms of Bressingham, we are excited to have the opportunity to show your group what we have created at Bressingham Gardens, different gardens joined together with newer plantings to create 17 acres of intensely planted grounds. Although our climates are different, many plants we grow here will be equally adaptable to your area, and so will be some of the design and planting ideas.  I hope that by visiting Bressingham and other outstanding English gardens you'll have new insight into planning your own home landscapes, both large and small.
 We have an exciting program from which we feel all levels of gardener will enjoy. If the previous trips are anything to go by, lots will also be learnt about gardens, about England, good food and hospitality, and being largely horticulturists, meeting and enjoying new  friends. As for Bressingham Gardens, we suggest you first visit our website,  www.thebressinghamgardens.com  then contact Joe Kunkel directly at  akinback@yahoo.com for more information and booking details.
 All best wishes
Adrian                                                              Click here for more details