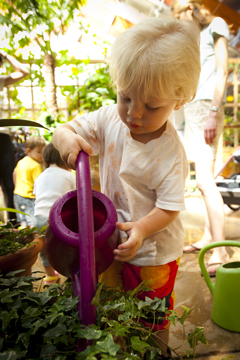 Calling all bug catching, dirt digging, flower watering, puddle jumping and bee buzzing toddlers! There are still spaces available in our Summer Seedlings classes. Seedlings classes offer our youngest visitors (ages 18 months to six years) the opportunity to explore, discover and create alongside their caregivers and peers in the safe and nurturing environment of the Mordecai Children's Garden.
Each week our plant-based classes explore a new theme. Our teachers will guide you and your budding naturalist through an interactive and engaging curriculum. If you have a toddler who loves to read stories, embark on nature walks, create unique pieces of art, taste yummy garden treats, plant seeds and meet garden critters, then these classes are for you!
To register for a program, call 720-865-3580 or visit our catalog.
18-24 months, Tuesdays 9:30-10:15 a.m. or 10:45-11:30 a.m. - Stimulate the senses through hands-on experiences with nature.
24-36 months, Thursdays 9:30-10:15 a.m. or 10:45-11:30 a.m. - Experience nature through art, movement, songs, stories and the senses.
Some of our upcoming class topics include: