(Given from Ollie's Perspective)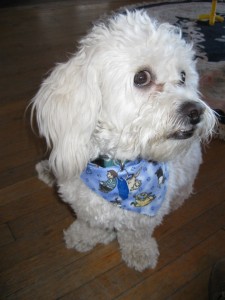 Pretty much every day is the same for me. I wake up, do backyard squirrel patrol, wag my tail and try to look cute (not too hard for me to do) so my owner will take me on a walk, eat, sleep, and start it all over again the next day. I'm fine with the routine, but it would be nice to have a little excitement in my life.
It all changed though when my owner came home one day to tell me about Botanic Bow Wow, a Denver Botanic Gardens event geared specifically towards ME!! (and I suppose I'll bring my owner) I'll get to network with other furry friends, eat some treats, try to win a contest, get my picture taken, and much more. If you want another furry friend to roam around with, there will be available dogs to adopt from Dumb Friends League and Rocky Mountain Cocker Rescue. There will be many vendors on-site that cater to us [dogs] and our owners. From doggie daycare such as Camp Bow Wow and Playful Pooch, to pet groomers like Mile High Mutts, and sustainable pet stores such as Quality Paws Natural Pet - there's something for everyone! Check out the full list of participants here. 
I can't wait for this event and am counting down the days (on my paws) til Saturday, May 22. Botanic Bow Wow will go from 9 a.m. - 1 p.m., and you can bet I'll be the first in line. You won't be able to miss me; I'll be the cute one.
Hope to see you there,
Ollie