You might think that Denver Botanic Gardens is hunkered down for the winter and the only sparkle to be had comes from our nighttime electrical endeavors.  But you'd be wrong.
Many plants are flowering at this time of year, and while they'll never match the springtime display of floral abundance their delicate blossoms are made all the more magical by being present in the deep of winter.  Hailing from less severe climes where we might describe winters as more damp than cold, these plants rely on increased autumn humidity and moisture to cue them.  
One of my favorites is Prunus x subhirtella 'Autumnalis', or early-flowering cherry.  This small tree is native to Japan.  Wild individuals typically bloom in very early spring; some cultivated varieties (like ours in June's PlantAsia) bloom even earlier—the winter of the previous year!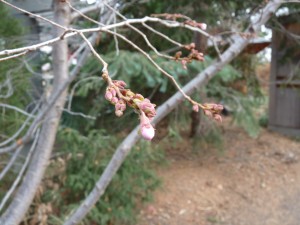 Viburnum farreri is another early-flowering specimen native to Asia.  It will reach its heaviest show in early spring, but begins flowering in early winter.  Whenever temperatures creep above freezing, this shrub will produce fragrant white flowers brushed with pink.  It is often flowering in Woodland Mosaic in January.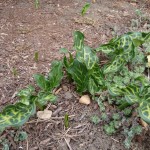 The Dwarf Conifer Berm and Rock Alpine Garden are also home to some "springtime out of season" plants, this time from the Mediterranean.  On the south-facing slope of the Dwarf Conifer Berm Arum italicum is erupting from the ground (looking a bit like someone made a trip to the craft store and planted some silk florals).  When it becomes truly cold Italian Lords and Ladies will freeze back to the ground, but for now they provide an unexpected reprieve from dry perennials.  Growing right along the south wall of the Botanic Gardens in the Rock Alpine Garden you can see Cyclamen cilicium, a cyclamen from southern Turkey (Cilicia).  It's pale pink flowers resemble florists' cyclamen (Cyclamen persicum) but are smaller (and perennial!).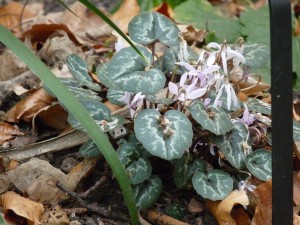 Opposite the Orangery in Shady Lane is broadleaved-evergreen Daphne transatlantica, a hybrid that blooms practically year round, though like Viburnum farreri produces the greatest number of flowers in spring.  If you don't have Daphne transatlantica (or its PlantSelect® cousin Daphne x burkwoodii 'Carol Mackie') you should.  Unlike most Daphne, these two reward neglect with winter green and heavenly, waxy blooms.
You should certainly come to see Blossoms of Light and Trails of Light this year, but make sure you come in the daylight to see some Blossoms of Plants!