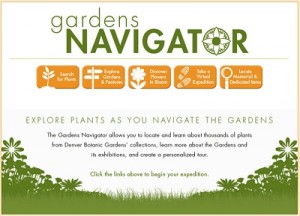 I am excited to introduce you to a new member of the Denver Botanic Gardens family. Gardens Navigator is a website that you can now access from your home computer or mobile device to learn more about the Gardens and the plants you see growing here.
This website takes you inside of the Gardens' plant collections; you can search for plants by common or scientific name, by location or flower color. You can also learn more about individual gardens or take a tour of specific groups of plants, like the "Champion Trees" or "Palms in the Conservatory."  Maps, images and descriptions of the plants round out the information you can see on this new website.
This site is linked to the plant database (BG-BASE) and mapping system (BG-Map), so it updates as we add new plants. We are the third garden to install this web program, following Longwood Gardens and Coastal Maine Botanical Gardens.