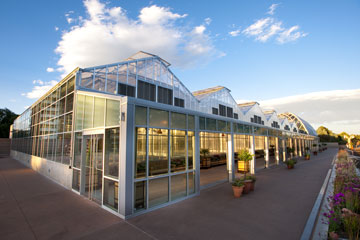 As any recent guest will note, Denver Botanic Gardens has undergone a major transformation in the last few years. From the new parking structure to a 12-bay greenhouse, things are looking better than ever. Not only has the project enhanced visitor experience, the construction itself is now being recognized. We are thrilled the Gardens is being honored as the recipient of the Gold Hard Hat Award for Best Overall Project of 2010: Outstanding Cultural Project for our Capital Improvement Projects by Mountain States Construction magazine.
Presented annually, the Gold Hard Hat Awards are given to construction projects that demonstrate design quality and innovation, craftsmanship, community benefit and overall excellence. The Gardens was selected out of more than 100 entries from Colorado, Kansas, Nebraska, North Dakota and South Dakota.
The striking and beneficial improvements to the Gardens include the enhanced parking structure, Bonfils-Stanton Visitor Center and gift shop, greenhouse complex and Welcome Garden, all of which have enhanced the visitor experience here at Denver Botanic Gardens.
The Gardens and its construction partner – GH Phipps Construction - are flourishing in more ways than one. Incorporating environmentally friendly design and sustainable construction practices, the new structures balance well with the graceful lines of the Henry Moore sculptures currently populating the Gardens. If you have not yet had a chance, stop by Denver Botanic Gardens to witness the award-winning improvements.