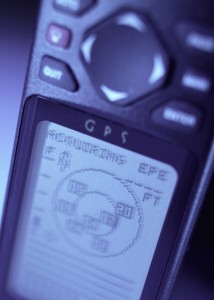 We are all aware that using your GPS while driving can assist you in finding the destination you are searching for.  Are you also aware that you can use your GPS to assist you in the world of plants?  If you are a lover of plants, the "In the  field: Introduction to GPS Mapping" class (Thursday, Sept. 22, 6-8 p.m.) could open a whole new world for you.
Denver Botanic Gardens' Research and Conservation department will be leading this useful and interesting class.  Their department uses GPS extensively in their work with plants in the wild (especially when locating rare and threatened species) – both in locating the plants and in documenting where they found the plants so that they can easily be found again.
Now you may be asking yourself, "What does this have to do with me – a home gardener…a novice plant lover?"
Using your GPS, you can map and document the location of plants in your own garden (so that you know exactly what you planted and where) or you can document where you found a special flower while out on a hike so that you can find it again.  Or perhaps you've always dreamed of finding a specific, favorite plant that you've never seen growing wild but would like to.  You could visit the Gardens' Herbarium (where we have lists and locations of many species growing here in Colorado) and determine if we have the GPS coordinates to help you fulfill your dream.
If you're concerned about needing a special type of GPS unit for this class or this task, don't worry.  The simplest of GPS models can be effective at helping you with these projects.
And if your knowledge of how to use a GPS is minimal or nonexistent, fear not.  This class will teach you some of the basics:
Learn about different types of GPS units and their capabilities
How to use a GPS unit to locate something (plants, favored hiking trail, etc.) with map coordinates
How to create and input coordinates
This class will also give you hands-on experience with a scavenger hunt throughout the Gardens (you can bring your own GPS or borrow one of ours).
Your searches need not be limited to Colorado and/or information available from the Gardens' Herbarium. Your newfound knowledge can be put to use by visiting (in person or often online) various herbaria around the country to locate thousands of plant species.
If you find that you really enjoy this type of botanical exploration, the Gardens would love to have your help.  After taking the class, you are welcome to sign up to assist the Research and Conservation Department in their work at locating and recording various rare and threatened plant species. There are still many species that need to be located or returned to for research purposes (seed collection, counting, etc.).
Join us by registering online or calling Denver Botanic Gardens' registrar at (720) 865-3580.