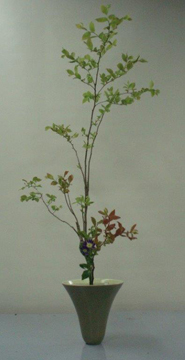 The word "Ikebana" is derived from two words: "ike" which means to live or make alive and "bana(=hana)" which means flowers or plants.   "Ikebana" literally means "to make (cut) flowers alive."  While love toward floral beauty has long inspired people in the East and West to decorate their indoor surroundings with cut flowers, leaves and branches, it is a unique characteristic of "Ikebana" to arrange these in a way that expresses the life of the plant materials.  Ikebana reflects Japanese empathy with life and death of flowers, respect and appreciation to the nature.
A most common and simple Ikebana style formulated in the 17th century expresses the inner beauty of the naturally growing plants, the growing energy of plants and flowers which have put their roots in the soil and reach upward toward the sky.
Practicing "Ikebana" is a direct, face to face dialogue with living plants, an opportunity to read the tacit "will of nature" as enshrined in the heart of materials (for example, branches bent by winter wind, a leaf half-eaten by insects). When practicing   "Ikebana", you may experience the resonance arising between the heart of the active human and the static plant. This exchange of life is "Ikebana".
Guest Blogger: Kazuko Kozai
Kazuko is a senior professor of IKENOBO, the oldest school of Ikebana, which was established in 1462.  She was born in Kyoto, Japan and has been studying "Ikebana" more than 45 years. Currently she is serving "Ikebana International" Denver Chapter as a vice president and teaching "Ikebana" enthusiastically in the Denver-Boulder area.  Visit Kazuko's website for examples of her work.