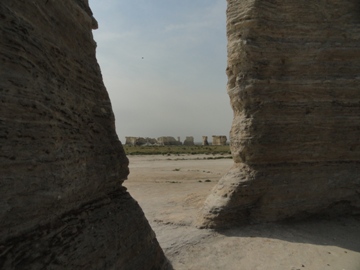 No, that's not Stonehenge: it's one of many scenic wonders in our neighboring state. Coloradoans often forget that there was a time when we were ALL in Kansas. Kansas territory, that is. So spending four days travelling through Kansas is really a homecoming for real Coloradoans. It's not that far, and I doubt I have spent a more luminous four days anywhere than traveling with Larry Vickerman (Director of Denver Botanic Gardens at Chatfield) and Mike Bone (Curator of Steppe Collections and Propagator at Denver Botanic Gardens). Larry used to be the director of the Dyck Arboretum of the Plains, one of our very best stops. We  traveled 1,600 miles (we live in big country!) exploring our neighboring state at the height of bloom on the tallgrass prairie. It was just awesome!
Oenothera macrocarpa v. fremontii
Several of the loveliest native plants I have grown while at Denver Botanic Gardens are pretty much endemic to Kansas--this fabulous silvery leaf form of the Missouri Evening primrose is just one of them. We found this many miles west of where Larry had found it before, not too far from Colorado. It promises to be an even more xeric form of this indispensible garden plant. We found all four subspecies of O. macrocarpa: something not many people can boast about!
I was truly impressed by the care Kansans take in grooming their roadsides of weeds, preserving and enhancing the remnants of prairie across the state. The small towns were truly picturesque and enchanting. And lush!
Greenflower milkweed (Asclepias asperula)
We encountered many incredible milkweeds, like this greenflowered monster. Boy! Would I love to have that in my garden! The glorious orange milkweed was practically everywhere we stopped. Other highlights for me was finding the miniature prairie dayflower (Tradescantia tharpii) on the picturesque Coronado hills, and  the stunning endemic bush Clematis (Clematis fremontii) growing abundantly on hilly pastures in central Kansas. These and many more are "Great Plants" of the Great Plains introduction program, and truly great plants for Colorado Gardens. I suspect some will be featured not too many years away in Plant Select.
Mike Bone and Larry Vickerman checking out Penstemon tubaeflorus
The highlight of the trip for me had to be visiting the Tallgrass Prairie National Preserve in the Flint Hills. I had no idea that so much of the prairie had been preserved and that it was being restored to such pristing beauty. Above, my companions are admiring the endemic white penstemon of that prairie in the Southern Flint Hills.
Coloradoans need to get off our high horse and mosey on over to our prairie neighbors: you will be humbled by the magnificence of the prairie sky and the honesty, beauty and purity of our heartland. I for one wouldn't mind joining up with Kansas once again. It's mighty fine territory indeed!