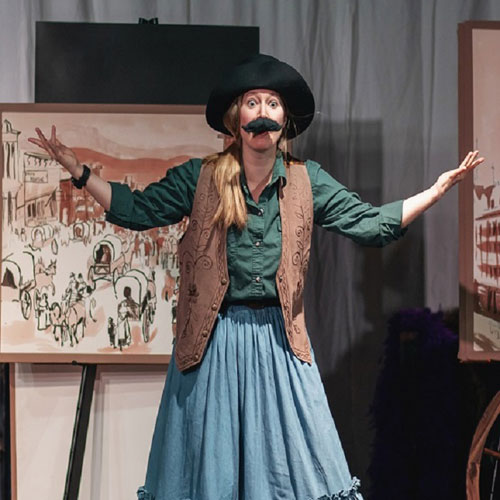 Hang onto your hats and round up the family for a fast and funny adventure through history! Central City Opera presents "How the West was Sung," a family friendly performance that makes frontier history come alive.
When: Sunday, May 5, 1:30 -3:30 p.m.
Where: Denver Botanic Gardens Chatfield Farms
8500 W Deer Creek Canyon Road
Littleton, CO 80128  |  Map
What: "How the West Was Sung – A Musical History Program for Families"
This fast-paced and funny musical history program for families tells the stories of historical Colorado figures Molly Brown, Horace and Baby Doe Tabor and Clara Brown. The performance begins at 1:30 p.m. and is approximately 45 minutes. This program is recommended for families with children ages 8 and up. 
After the show, explore the grounds of Denver Botanic Gardens Chatfield Farms. Discover the diverse ecology along Deer Creek and learn the history of Hildebrand Ranch house, which will be open to visitors. Each family receives an ecological scavenger hunt to guide their exploration.
Chatfield Farms is a 700-acre native plant refuge and working farm with 2.5 miles of nature trails, the Deer Creek Discovery children's play area, an 1874 schoolhouse and wildflower gardens.
About Central City Opera:
Central City Opera's mission is to sing extraordinary stories to spark imagination, inspire creativity and open minds to the breadth of human experience.
Founded in 1932, Central City Opera is the fifth oldest professional opera company in the country and is renowned for its exquisite world-class productions, competitive and robust young artist training program, and creative educational and community engagement activities. Its summer festival, only 35 miles west of Denver, takes place at 8,500 feet above sea level in the Colorado mountain town of Central City, where the company owns and maintains 28 Victorian-era properties, including the intimate 550-seat jewel box opera house built in 1878.