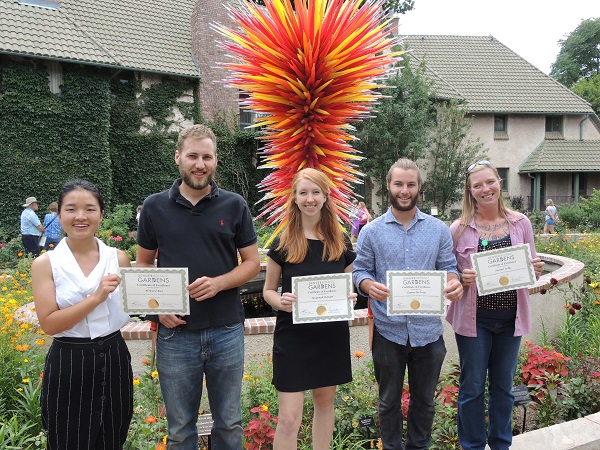 How will you spend your summer vacation? Every year Denver Botanic Gardens' Horticulture Department accepts college students from across the country as interns in a rigorous, 10-week horticulture internship. Under the supervision of Gardens' horticulturists, interns will gain hands-on experience working in a public horticulture institution.
In addition to daily garden maintenance, each intern will complete an individual project designed and guided by their staff mentor. The 2016 Horticulture Interns accomplished varied and inspiring projects: writing and editing a soon-to-be published wildflower book, creating recipes based on urban farm produce offerings, building a Czech-style crevice garden for the Rock Alpine Garden, developing tissue culture protocols and mapping and curating various gardens with the Plant Records Department.
In 2017, intern projects will focus on:
Plant Records Curation and Mapping
Urban Agriculture and Community Engagement
Japanese Garden Character Pine Maintenance and Documentation
Propagation, Production and Seed Herbarium Maintenance
Therapeutic Horticulture
Through weekly field trips, interns will explore Colorado horticulture and the diverse native ecosystems of the Rocky Mountain Region. Interns will also take part in numerous staff-led workshops, seminars and conferences designed to expose them to the diverse aspects of a public garden and professional development.
These unique opportunities are available thanks to generous donors who have created endowments or made donations specifically for the purpose of furthering the education of our next generation of horticulture professionals.
Check out our Internship Opportunities page for more information and how to apply for the 2017 Horticulture Internships. The paid internships are May 30 - August 3, 2017. All application materials must be received at Denver Botanic Gardens by Friday, Feb. 10, 2017.