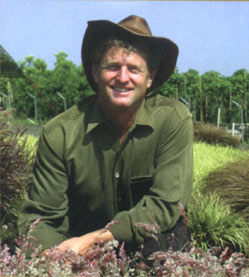 There is a battle waged over the merits of lawns versus meadows, and one might expect John Greenlee to come down on the meadow side.  An author, nursery owner, designer, consultant, and speaker, his resume is extensive--he even has film credits for his grasses!--and his work shows how beautiful meadows can fit different situations.
But what interests me is his approach.  In his eyes, grasses are found in every ecosystem, every possible habitat.  Similarly, horticultural grasses on sale today include not just turf, lawn seed and a few tall ornamentals for winter interest, but groundcovers, borders, natives for reclamation, meadows for aesthetic preferences, and a vast array of cultivars for use in almost any garden composition.  The real meat of the matter is how we think about that abundance.  To quote his talk description, "Our landscapes can't afford to be just decoration anymore."  And he expects grasses and meadows to play a large role in "greening" our ideas of landscape.
"Meadows by Design" is Thursday night (August 20th at 7:00 p.m.  Pre-register for the best price.) and it sounds like such a modest title.  But the ideas he will share are ones that are already changing gardens and landscapes.  Its evidence that you can do more by transforming assumptions than by triumphing through force (force of will or of argument).
The problem with a longstanding debate is that die-hards on both sides relish the chance to claim momentary superiority.  My interest is not in the meadow-lawn competition.  It's in the gardener who loves meadows but whose children love soccer or the golf course employees sharing a vision of waving grasses just off the green.  The landscapes created in the shadow of the debate will foreshadow the future better than the debate itself will.