Growing vegetables can be one of the most gratifying gardening experiences.  It is amazing to watch seeds, bulbs, and small plants grow to become a productive food harvest. For children, this can be the first exposure to horticulture and a very educational experience in nutrition, health and science.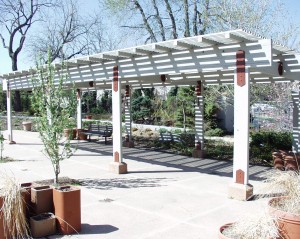 The space outside of the Morrison Center, previously the Sensory Garden, was left undeveloped during construction of the Mordecai Children's Garden during fall 2010. The original plan for this space was to add six simple vegetable beds.  With 1,000 square feet of space, it became a challenge to create something that would be impactful.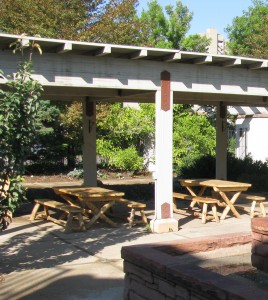 I was fortunate to have the opportunity to design a vegetable garden space for the Mordecai Children's Garden.  I have a degree in Landscape Architecture and wanted to use the skills I developed to add unique elements to the design.  This helped to create a dynamic space for children to explore.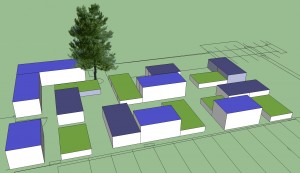 The best way to communicate my design was making a simple model using programs such as AutoCAD and Google Sketchup to show the spaces functionality and visual interest.  I created a maze-like bed formation with fluctuating levels that emphasize ease of access, interaction and sense of enclosure.
The project began by removing the remnants of the old garden--a cement path; a few remaining shrubs and perennials; and the existing irrigation.  The one plant remaining from the original garden is a Champion Tree, Picea mariana 'Ericoides'.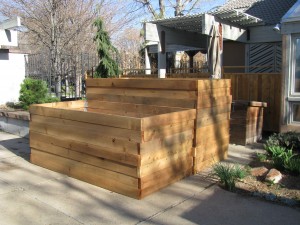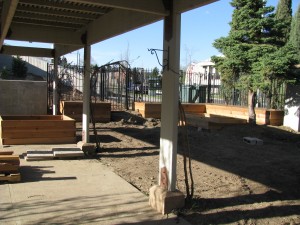 Volunteer Services helped me create a wonderful team of experienced contractors who lent their time and expertise to make this project successful.  Countless volunteer hours were spent cutting lumber, assembling frames and setting the beds in place.  The beds were built using 2"x6" untreated cedar, ranging in height from 1 to 3 feet.  Using untreated lumber is important for keeping the soils organic; treated lumber can leech preservatives into the soil.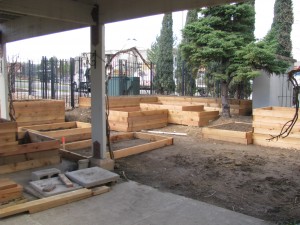 A total of 16 beds were completed with a total of 500 square feet of planting area.  The diverse heights allow for all age groups from toddlers to elderly to easily help or interact with the garden space.
Completing the garden in just over 2 months, we were ready to plant by June.  The beds were filled with premixed 40% compost to soil ratio to provide a high nutrient level for the vegetable crops.  The soils were supplemented bi-weekly with organic fertilizers such as seaweed and fish emulsion.  In total, we grew over 65 varieties of vegetables and flowers using succession planting, companion crops and plants for pollinators.  This created an exciting and colorful first season.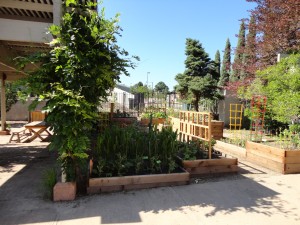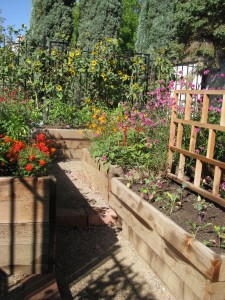 The vegetable harvests were used by education classes and in daily visitor activities.  Weekly harvests were also donated, with other Gardens'-grown produce, to Metro Care Ring of Denver.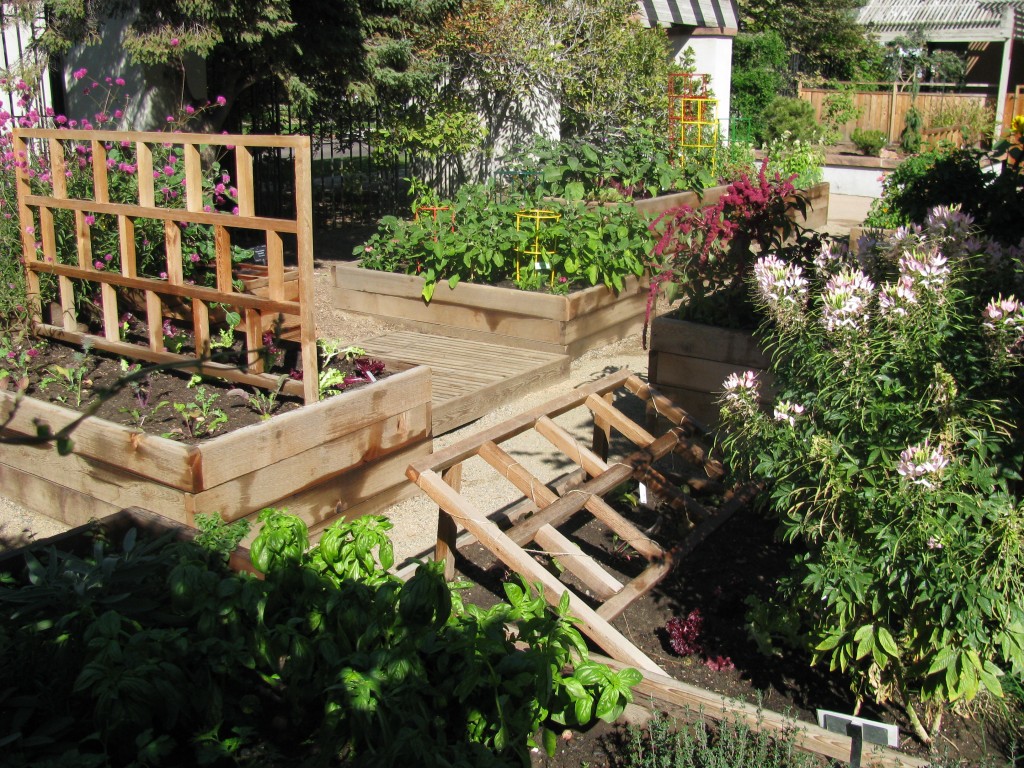 Building the Home Harvest Garden was very beneficial to my development as a designer, allowing me to work on a design from inception through completion.  I look forward to opportunities next year introducing children to horticulture.