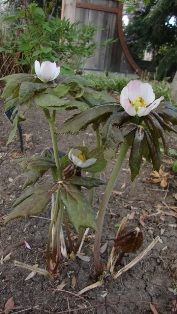 closeup of Podophyllum emodi
Anyone who grew up in the Midwest knows the modest, nodding May Apple (Podophyllum peltatum) ubiquitous in the woods there.  I suspect that not one in twenty visitors to Denver Botanic Gardens ever notice its modest cousin that blooms for a week or two in mid May every year in Plantasia, Birds and Bees and in the Rock Alpine Garden. For me these modest little woodlanders are the essence of spring. I look forward to the delicate (and very dilatory) ballet they perform each spring, as sculptural and elegant as the sleek Moore sculptures nearby, and a good deal softer! The species that grows so well for us is technically Podophyllum emodi, or sometimes called P. pleianthum.
Botanic Gardens evolved from Medieval cloistered collections of culinary and medicinal herbs that we as humans have relied upon for our health and very sustenance. The botanic garden nowadays serves such a multitude of needs that we forget that these magical plants (that provide us with the oxygen we breathe, the carbohydrates that nourish our bodies and the beauty that nourishes our soul) also provide complex alkaloids that can help us in other crucial ways. Over the years I have occasionally had doctors call and ask to see this or that plant in our collections. I have led several doctors to this modest May Apple and one day I asked why did they want to see it? It turns out that this plant produces aryl tetrahydronapthalene, which has been used effectively to treat breast cancer. The doctor was just curious to see what the plant that manufactured this compound looked like "in the chlorophyll" as it were...
I have traversed a few bits of the Himalaya: from Pakistan in the West to Yunnan in the west, but I have not seen this or any of its many glamorous May Apple cousins that are becoming cult plants for those with woodland gardens. But I can take some personal satisfaction knowing I obtained seed and added this amazing plant to Denver Botanic Gardens where it has prospered for over twenty five years, and continues to delight a few of us (even if streams of visitors walk by and never even notice...)