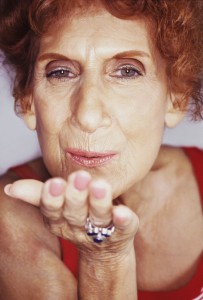 Did you love your grandma while you were growing up?  Of course you did!  She was wise and loving and wanted nothing more for you than for you to be happy, healthy and to grow up to be a good person.
In her quest to help you attain these qualities, she undoubtedly soothed your brow when you were sick and perhaps offered a cup of hot tea that was sweetly flavored with lemon and honey when you had a sore throat.  A subtly spiced chicken soup was probably on her menu when you had a cold.  She might have taught you how to hand sew a dainty sachet that you could fill with lavender to put on your pillow at night (and, guys, don't snicker; you know you would have eaten this activity up, as well).
Grandma absolutely had a method to her sweet madness.  All of these tasty foods and fun craft activities were offered to help you attain that healthiness that she always wanted for you – honey to soothe your throat, hot tea and soup to help you sweat out your cold, spices to speed up your recovery time, and lavender to help you sleep.  It's hardly news anymore that nature offers us a plethora of ways to heal our bodies and soothe our soul.
The Gardens offers you a way to become your own Grandma (or Grandpa) by learning some of these ancient and effective healing arts that you can easily create for yourself at home.  Join us for any of our three remaining classes in our HERBCRAFT series.  C'mon, it would make Grandma proud.
Tuesday, Aug 24: Herbal Tincture Making, Infused Honeys and the Digestive System
Learn the art and science of creating herbal tinctures and infused honeys. Discover how you can use holistic remedies to achieve and maintain digestive health and grace.
Tuesday, Aug 31: Herbal First Aid and Infused Oils and Salves
Learn ways to use herbs and essential oils to treat acute symptoms. Create your own travel first aid kit in addition to an herbal infused healing salve. Learn to make sun-infused herbal oils.
Tuesday, Sept 7: Sleeptime Remedies and the Nervous System
Learn how to look deeper for the causes of disrupted sleep and which herbs to ally with to nourish and soothe the nervous system. We will create aromatherapy pillow mists, dream pouches, and an herbal dream balm.
Cost: $55 non-member, $48 member