"Sculpture should always at first sight have some obscurities, and further meanings. People should want to go on looking and thinking; it should never tell all about itself immediately." - Henry Moore, 1968
The impressive and seamless interaction of Henry Moore's sculptures with the landscape of the Gardens gives the impression that Moore (1898-1986) had been working intently with form and landscape from the early days of his art career. However, it wasn't until he was nearly 50 years old during the end of World War II that he began to focus on creating sculpture for landscape, and it wasn't until he was well into his 60s that he began to reference natural objects in his sculpture work.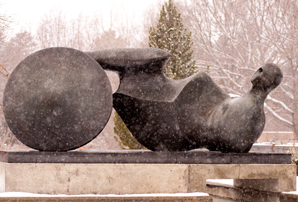 After losing his home and studio in London to damages from air raids, Moore and his wife moved to Perry Green at Hertfordshire in 1940. The lush rolling hills enveloped by the Chestnut and Beech trees became inspiration for Moore to focus on creating dialogue between sculpture and landscape and a source for working pure, organic forms into his work.
Moore's interests in the exchange between figure and landscape can be seen prominently with the stark white Large Reclining Figure in the center of the Gardens on the large berm. Its placement on top of the berm gives a 360 degree view of the sculpture from the ground and a short walk up to the top of Anna's Overlook reveals the rolling shape of the sculpture set against distant angles of the Rocky Mountains.
During this same time in his life, Moore was inspired by the natural objects he found in the pastoral setting of his home.  His shelves were lined with bits of seeds, shells, pebbles while larger pieces of driftwood and animal bones were scattered throughout his studio. These organic influences can be seen in Large Totem Head, nestled in the Porter Plains Garden, through the formal suggestion of a seedpod. A reference to the gaps found between stones in large rock formations can be noted in Two Piece Reclining Figure: Points, located prominently on the north side of the Amphitheater.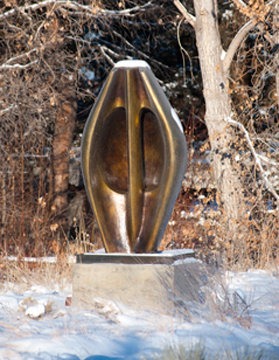 You can learn about Moore's inspirations by accessing our free cell phone audio guide (look for signs next to each sculpture) or take a look at Moore's creative processes in the Henry Moore: Creative Vision exhibition in the El Pomar Room within the Boettcher Memorial Center.
Denver Botanic Gardens is the last stop in the U.S. for this traveling show that spans 40 years of Henry Moore's work. Enjoy Moore In the Gardens until Jan. 31, 2011.
References:
Moore in the Gardens, edited by Lisa M.W. Eldred and Betsy R. Armstrong, 2010 Denver:  Denver Botanic Gardens in association with the Henry Moore Foundation. (Available for purchase in The Shop at the Gardens)
The Henry Moore Foundation www.henry-moore.org