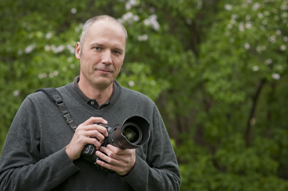 Scott Dressel-Martin is the Gardens' official photographer. He has his own business, which keeps him hopping from shoot to shoot and client to client, generating wonderful photographs of many subjects.  You've seen his work all over www.botanicgardens.org, and on this blog, and in the Gardens' newsletter and multiple books.  If I could hang only photographic art on my walls, I'd still be out of space after Scott's portfolio. 
However Scott is also an instructor at Denver Botanic Gardens, and very popular one: not just for his botanical photography, but because he has invested himself in the Gardens, its staff and its members.  He radiates back the same enthusiasm that people feel for the plants, and art and community, and he teaches you how to see it photographically. A sampling from Scott's blog will show his work with his commentary.  And what he might modestly tell you are "tricks of the trade" are really ways to see and envision an image, not just accomplish a picture-taking. Look at this photo from the Gardens' PlantAsia that he posted in his blog about his June 3rd class.  I would never have seen that gate and those flowers together if Scott hadn't envisioned and composed it. 
Normally Scott works with a limited number of students at a time, so that everyone gets attention and connection.  But the Garden Club of Denver persuaded him to give a lecture in association with their Power of Flowers show on June 3, 2011. His talk, titled "POWER of the Lens: Creating Dramatic Images of the Garden" will be great chance to learn, see and ask.  It's Friday, June 3, 2011 at 9:30 a.m., $10 for members, $15 non-members, which is a real steal, because you can photograph both the flower show and the Gardens in bloom afterwards.  (The other Power of Flowers lectures are also available.)
Another of Scott's classes will be in Vail, his former stomping grounds as a photojournalist for the Vail Daily.  Betty Ford Alpine Gardens will be in full bloom in mid-July, and "Photographing the Wild Flower! with Scott Dressel-Martin" will take full advantage of it (Saturday, July 16, 1 p.m.).  This is what I think of as the full Scott  Dressel-Martin experience, combining both time in class and time photographing Gardens. This workshop is limited to twelve, so make sure you register in advance. If you're a Denver resident, that's roughly a two hour drive, and you might choose to make a weekend out of it.  If you live near Vail, members of Betty Ford Alpine Gardens also get the member rate for this class. 
So often I find that friends and relatives show me "pictures of gardens" that are really impressions. The colors and shapes are in focus, and they document the friend in a location, but they're hardly a garden portrait.  I tend to err in the other direction: I get great photographs of a single plant, close-ups of the flower, all suitable for later identification.  Scott's photography can combine both accuracy and beauty, becoming a real portrait that could satisfy both an artist and a historian.  The skills he teaches are ones that enrich lives and memories as well as digital images.