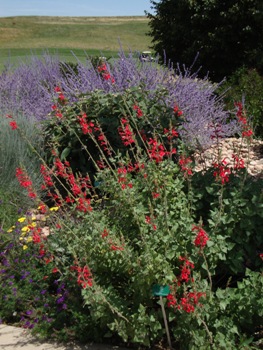 This morning when I got up the temperature was -11F. I came to work and Sarada Krishnan told me it was -17F at her house...and this is only the first week of December. Gardeners everywhere are guilty of brinkmanship: we are always pushing hardiness limits, growing what we shouldn't do. And yet...and yet...there is something about a palm tree in Denver or seeing an ice plant thriving (hardy and outdoors) in Breckenridge at 10,000 feet that warms the cockles of a gardener's heart. The picture above was taken at Westmoor Golf Course in Westminster where Shalene Hiller has been growing this Mexican salvia for years. (You can see a picture of Shalene next to this same plant at Plant Select). Of course, Salvia darcyi grows natively almost a thousand miles south of Denver in the mountains above Monterrey, Mexico where subzero temperatures are unheard of. Somehow, however, this plant has retained genes from a colder time, perhaps, or has the "stuff" that it has come back reliably in a wide variety of gardens in the Denver area where it has no right to grow. That said, will it come back again next year? That is a good question... and it explains why gardeners don't spend much time in Las Vegas: we gamble every winter. Come to think of it we gamble every day: will it hail? Will it rain? Who needs slot machines if you have a garden?
If Salvia darcyi weren't a stretch, I've grown 'Hot Lips' (see below) for five years on the south side of my garden. This comes from hundreds of miles further south even than its Mexican cousin above. It is usually listed as a Zone 8 plant (meaning hardy to only about 20F) and yet it has come back year after year through subzero cold. This is the sort of thing we do here that makes "Hardy in Denver" a mantra in many nursery catalogues: heck, if we can grow it here, it'll grow Anywhere!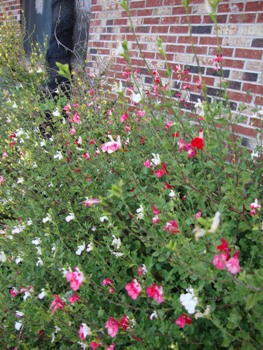 Ahem...but will it come back next year? Good question. The hundreds of South African plants that fill our gardens, not to mention all sorts of tender Mediterraneans and California shrubs that we have been playing with at Denver Botanic Gardens and beyond...how will they weather an interminable, cold winter?
I remember when Japanese Maples were impossible to grow there, and now everyone seems to have one tucked away in their yard. We've banked upon Global Warming, perhaps, or increasing skills in manipulating microclimates. But real gardeners grow humble with the years. We can scheme and dream, speculate and experiment all we want, Mother nature always has the last word. Bless her! Let's just try to keep on her good side...OK?